Revolutionising Urban Transportation: Top E-scooters to Watch Out for in Australia in 2023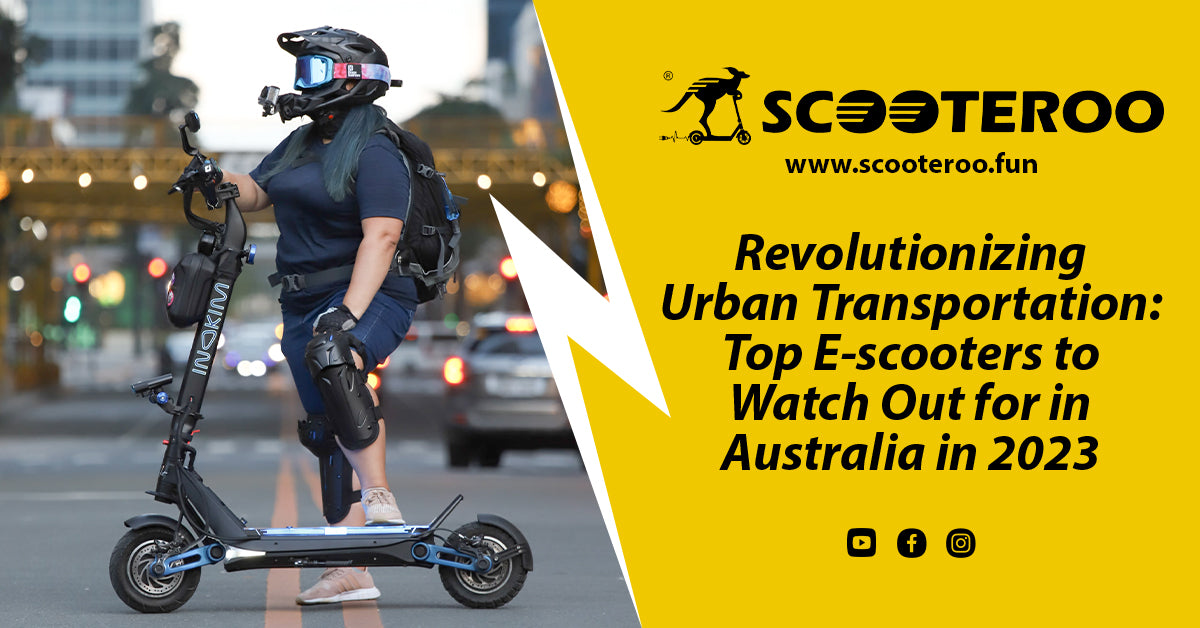 Among all the electric scooters in Australia, which one should you pick?
When choosing an e-scooter, always factor in your needs and lifestyle. However, if you don't know where to start, we made a list of the top e-scooters to consider or keep an eye on.
In no particular order, here are the top electric scooters in Australia this 2023.
EleKtro Ultra 8 Pro
The EleKtro Ultra 8 Pro only recently launched, but it's already competing with some top brands. This EleKtro electric scooter features a dual 600 W motor that produces up to 55 km per battery charge and up to 55 kph on private property (capped at 25 kph).
Other notable features include its NFC security lock, 8.5-inch pneumatic and solid tyres, dual swingarm suspensions for better comfort and stability, adjustable stem, foldable handlebars, and all-around deck lighting system.
It's perfect for riders who need a commuter e-scooter that can tackle various terrains and go far distances per charge. The Ultra 8 Pro also offers one of the highest specs in its class, making it worth every penny.
BLVD Cruze
The BLVD Cruze offers an all-around, lightweight electric scooter with good performance, safety, and affordability balance. It features a 250 W kick-to-start motor that can ride up to 24 km on a single charge and up to 25 kph.
This BLVD electric scooter also includes a rear-wheel drive hub motor that provides better traction, stability, and steering. It's also highly portable, with its easy-fold mechanism, 11 kg weight, and compact dimensions. 
The BLVD Cruze suits people who need a lightweight, daily or occasional ride in the city. Moreover, the e-scooter offers decent performance, especially for its affordable price.
Bolzzen Commando 4818
At under $2,000, the Bolzzen Commando 4818 offers more for a better value. This Bolzzen electric scooter uses a dual 600 W motor with a combined peak of 2000 W. As a result, it delivers up to 25 kph or 50 kph on private property and produces up to 60 km per charge.
This e-scooter also features front and rear Zoom hydraulic brakes for a stronger and more responsive braking system, a foldable stem, suspensions, and an NFC keyless start. These features ensure your safety, comfort, convenience, and security on the road.
Consider getting the Bolzzen Commando 4818 if you need a powerful and long-range commuter e-scooter.
CycleBoard Rover
The CycleBoard Rover provides a unique riding experience with its all-terrain, three-wheeled electric scooter. Given its extra wheel, this CycleBoard electric scooter offers superior steering control and a smoother ride, thanks to its full suspension and pneumatic tyres.
It also features power and durability with its 1500 W brushless hub motor that delivers up to 43 kph and up to 64 km. Since it can ride through most terrains, it has a hill gradeability of 30%.
The CycleBoard Rover offers specs and features suitable for daily or off-road riding. As a result, it suits all types of riders, from the conservative to the aggressive.
Dualtron Storm
The Dualtron Storm is an ultra-performance e-scooter for those who seek adventure. It produces a range of up to 128 km and a top speed of 99 kph, thanks to its dual motor's 6640 W output.
Other notable features include its wide 11-inch pneumatic tyres, kickplate, removable battery, foldable handlebars, excellent braking power, and highly durable build.
However, this Dualtron electric scooter leans towards the expensive side because of its high specs. Nonetheless, it offers good value for money, given its impressive specs and performance.
Also, riders can't use them on public roads since it doesn't meet the requirements of most e-scooter laws in Australia. So, it's best to use the Dualtron Storm on private property.
Kintech Hornet
The Kintech Hornet electric scooter comes in three braking systems: mechanical, ZOOM, and NUTT. While they're all excellent braking systems, the Kintech Hornet Hydraulic Disc (ZOOM) model provides super responsive and strong brakes, where you can feel it bite upon touching the lever.
Besides its powerful brakes, this Kintech electric scooter features a 1200 W motor with a peak output of 2900 W. As a result, it can produce a max speed of 60 kph (capped at 25 kph for public use) and a max range of 80 km.
It can also carry up to 136 kg and uses quad coil spring suspension for better comfort and stability, especially on rough roads. If you're looking for a high-performance e-scooter, consider the Kintech Hornet for extra power and safety.
Mearth GTS MAX
The Mearth GTS MAX is the ultimate off-road king if you're looking for an all-terrain e-scooter with a solid build, rugged design, and above-average performance.
Its battery, co-engineered by Mearth and LG, produces speeds of 50-70 kph (restricted to 25 kph) and a range of up to 100 km, making it one of the most powerful on this list. Its all-terrain, 10-inch tyres allow you to travel through various paths, including muddy hills, rocky trails, and rough pavements.
This Mearth electric scooter also allows you to attach a seat, enabling you to ride while sitting down. However, you need to buy the seat separately.
Overall, the Mearth GTS MAX provides a powerful off-road e-scooter for those needing a long-distance commuter ride or a high-speed e-scooter for travelling on private property. 
MiniWalker MW10DDM
The MiniWalker MW10DDM is ideal if you need an off-road e-scooter that's less expensive than some e-scooters on this list. But it still gives a decent overall performance.
This MiniWalker electric scooter uses a dual 1000 W motor that produces up to 70 km of range and 65 kph on private roads (capped at 25 kph on public paths). It also features 10-inch pneumatic tyres and dual suspensions for comfortable rides. Plus, it uses EABS and dual brakes for increased safety on the road.
It's perfect for those who need a good performance and a durable build without breaking the bank.
VSETT 10+
The VSETT 10+ is a high-performance, IP54 water-resistant electric scooter packed with power. It uses a 60V 28 Ah Lithium-ion battery that produces a whopping range of up to 185 km, and it also produces up to 80 kph on private property under sport mode.
This VSETT electric scooter also features NFC key lock to protect your e-scooter, a DDM button for switching between single or dual motors, and a sport mode for faster performance.
For safety, it uses an electric brake paired with front and rear hydraulic brakes. Plus, it includes a front spring and rear hydraulic suspension for better stability and comfort while riding on rough roads.
Overall, it's the best e-scooter if you need a highly capable ride that can tackle any terrain and go extremely long distances.
Choose Your Best Ride
Any of the electric scooters above will offer the best riding experience for your commutes or off-road adventures. Just remember to choose the best one that fits your needs and lifestyle.
Hopefully, this list helped you discover more e-scooter models and find the right one for you.
If some of the featured e-scooters seem too expensive for you, check out our list of the best affordable electric scooters available.