The Impact of Electric Scooters on Reducing Traffic Congestion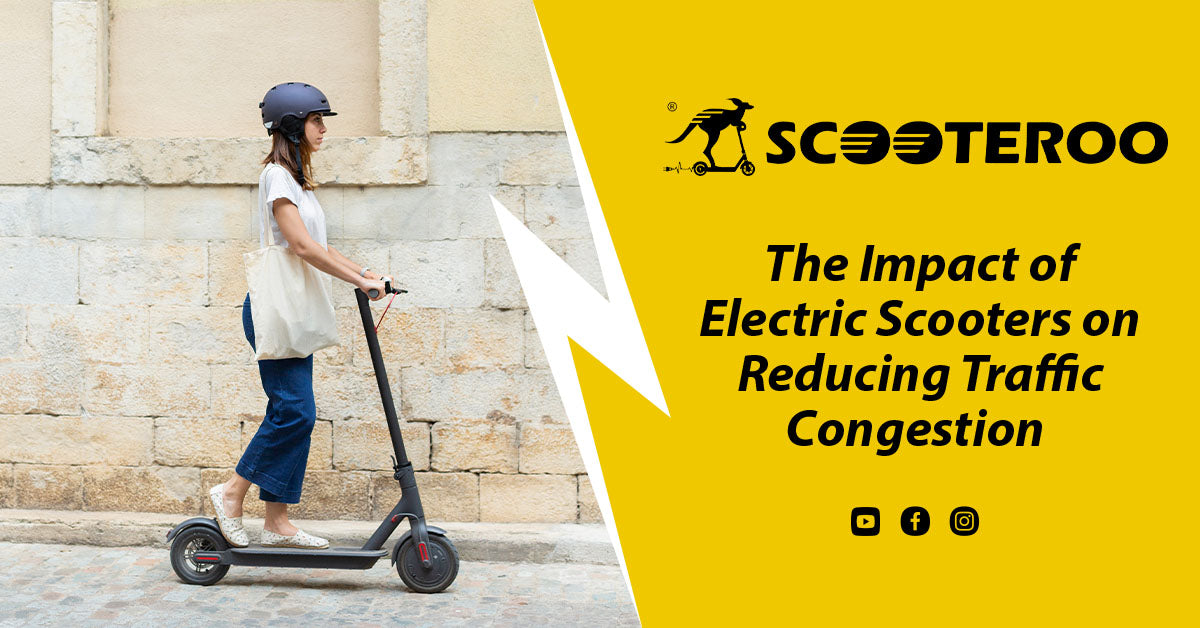 As gas prices continue to skyrocket and more people become conscious of the carbon emissions they produce, more people are leaning towards sustainable and eco-friendly options due to their affordability and impact on the environment.
Specifically, more people have switched to micromobility devices like e-scooters, e-bikes, bicycles, and other rideables. Even during the COVID-19 pandemic, electric scooter transportation has not slowed down.
Besides its convenience, affordability, and environmental impact, many people use e-scooters and other micromobility devices to bypass traffic. Since e-scooters are more compact and less space-consuming than cars and motorcycles, they also help reduce congestion on the road.
So, how has electric scooter transport helped reduce traffic congestion in cities? This article explores the e-scooter's impact on the road.
Mode Shift
According to Statista, user penetration in Australia is predicted to be 8.4% in 2023, but it'll grow to 14% by 2027. Despite having more electric scooter riders than before, how have e-scooters impacted car use?
A 2021 survey in Newcastle upon Tyne, England found that a third of Neuron Mobility e-scooters replaced car journeys. Neuron also found that 60% of their riders use shared e-scooters along with another form of public transport, like the light rail service, to travel.
Meanwhile, a 2022 report says that Neuron Mobility in Australia found that 40%-55% of e-scooter trips replaced car journeys.
Based on this data, we can assume that more people are opting for e-scooters and fewer people are using cars to commute. As a result, e-scooters help reduce cars on the road and lessen traffic congestion. 
Impact on Public Transportation
Micromobility devices like e-scooters have become a convenient first and last-mile transport for many. An electric scooter rider can get to their nearest public transportation and commute from the train or bus to their destination.
In a way, e-scooters have become a link to public transportation, enabling more people to conveniently get to other forms of transportation.
A report by Superpedestrian and Cities Today Institute urges cities to make e-scooters and public transit work together by establishing intermodal transportation hubs, integrating micromobility fares with public transit to lower the rider's costs, and deploying e-scooters to fill the hours without public transit, among many others.
Overall, e-scooters encourage people to ride public transportation often, resulting in fewer cars on the road.
Electric Scooter Environmental Impact
According to a report by the Climate Council, transport is Australia's third-largest source of greenhouse gas emissions. By promoting e-scooters more to the public, it can help reduce emissions made by cars.
Studies have shown that riding e-scooters in cities helps reduce harmful emissions. For example, Lime found that using e-scooters in Paris helped save over 330 tons of emissions.
Also, despite having a shorter lifespan than a car, e-scooters include recyclable materials like aluminium alloy. As a result, it helps reduce landfill waste when you dispose of e-scooters.
Due to the electric scooter's environmental impact, people have an incentive to try or buy them. This results in fewer cars and gas emissions on the road.
Safety Concerns
Although e-scooters help reduce traffic congestion and carbon emissions in the atmosphere, reckless riding behaviours of some electric scooter riders lead to accidents and safety concerns from the community and government.
In fact, one report says that there has been a 300% increase in e-scooter injuries in the country since 2017. According to the same report, most patients didn't wear helmets and were under the influence of drugs or alcohol. Common injuries from e-scooter accidents include head injuries, broken bones, and internal organ damage.
E-scooter accidents affect traffic on the roads and endanger pedestrians, other micromobility riders, and vehicles. In a way, it could also cause disturbance on the road, mess up the escooter traffic flow, and cause traffic and harm.
Regulatory Framework
To keep riders, pedestrians, and other vehicles safe on the road, governments have been careful in allowing e-scooter trials and implementing regulations. Many states have a top speed limit of 25 kph and dedicated lanes or areas where the public can use e-scooters.
Many states also prohibit private e-scooters due to their size and speed limit and only allow approved shared e-scooters for public use. While it's not illegal to buy and sell private e-scooters in Australia, riders with private e-scooters can only use them on private property unless their state or city allows it.
Councils are also strict in implementing e-scooter regulations, as breaking the law will result in fees or penalties. Fortunately, it seems that riders and commuters are not discouraged from riding e-scooters due to the strict rules.
However, many commercial e-scooter models, like off-road e-scooters, don't comply with e-scooter laws in Australia, only making them rideable on private property. This limits the riders' options when riding an e-scooter, as they can only ride a commercial entry-level e-scooter (if allowed in their city) or a hired e-scooter.
Can Electric Scooters Reduce Traffic Congestion?
E-scooters have definitely helped in reducing traffic congestion. Besides this, it provides a convenient and eco-friendly transportation option for commuters who live far from cities or the nearest public transportation.
The next question would be, "Are electric scooters good for cities?" Overall, many studies and reports say that e-scooters have a positive environmental, social, and economic impact on cities.
As a result, more cities globally are studying how to properly incorporate electric scooter as public transport and make them more accessible to the public while discussing and implementing policies to keep everyone safe.
Browse the
Scooteroo online shop
to find your ideal ride!