The 8 Best-Selling Electric Scooters in Western Australia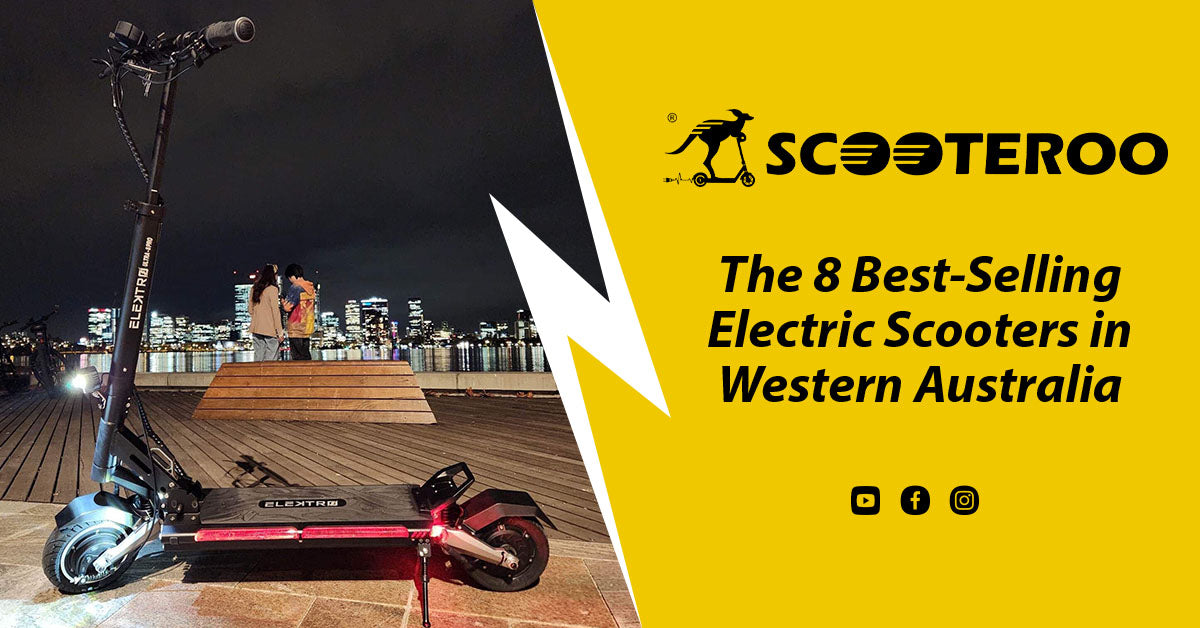 Are you curious what are the popular electric scooters in Western Australia? Based on Scooteroo online sales for the past few months, we list our eight best-selling e-scooter models.
As you go through the list, you'll notice how many of these rides are high-performance e-scooters. Specifically, one of the electric scooter trends in WA includes e-scooters with suspension. Since Western Australia has generally hilly terrain, many of these rides are perfect for climbing hills and tackling difficult terrain.
However, look at each ride carefully, and see if it fits your lifestyle. Whether you live in Western Australia or not, you may find the perfect e-scooter for you.
1. Bolzzen Atom Lite
One of the most popular electric scooters in WA based on Scooteroo's online sales is the Bolzzen Atom Lite. This commuter e-scooter features a 350 W brushless motor with a 500 W peak power, delivering up to 35 kph off-road (capped at 25 kph to comply with e-scooter laws in Australia).
Some of its highlights include its 36 V 8 Ah battery that produces up to 30 km per charge, its foldable stem, and its 12.9 kg total weight. Plus, it sports a front stem shock suspension to help stabilise your rides on uneven paths.
Given its light weight, it's an ideal ride for kids and adults. The Bolzzen Atom Lite is perfect for anyone who needs a quick first and last-mile ride through Western Australia's cities and rough terrains.
2. EleKtro Ultra 8
Despite its recent release, the brand EleKtro has become an increasingly popular ride in the electric scooter community in Perth, specifically its EleKtro Ultra 8. This commuter e-scooter features a single 600 W motor that delivers up to 55 km per charge and up to 50 kph off-road (restricted to 25 kph by default for e-scooter law compliance).
Its distinct features include its NFC security lock, dual swingarm suspensions, bright 360° deck lighting system, adjustable stem, foldable handlebars, and 20° hill grade. This combination of features offers riders a convenient and comfortable ride without sacrificing security, safety, and style.
Overall, the EleKtro Ultra 8 suits adults who need a daily commuter or long-range ride through the city or hilly terrains in Western Australia.
3. EleKtro Ultra 10 Pro
Another product from EleKtro, the EleKtro Ultra 10 Pro offers an off-road electric scooter with dual 1,200 W motors that produce a top speed of 70 kph off-road (restricted to 25 kph by default). It also uses a 60 V 24 Ah battery, delivering a max range of 90 km on a single charge.
Since it's built for difficult terrains, it sports dual swingarm suspension, front and rear full hydraulic disc brakes, 10" x 3" all-terrain tubed tyres, and a hill grade of 30°. Plus, it includes an NFC lock to help you secure your ride when parking or storing.
If you're looking for a powerful ride for off-roading with a long range and high speed, consider getting the EleKtro Ultra 10 Pro. If you prefer something more, the brand recently released an upgraded version of the Ultra 10 Pro, the EleKtro Ultra 10 Pro+. Check out either ride if you're interested.
4. VSETT 10+
If you want an e-scooter with a very long range, many riders in the Western Australia electric scooter market go for the VSETT 10+. This high-performance e-scooter uses a massive 60 V 28 Ah Lithium-ion battery to deliver a maximum range of 185 km.
Besides its impressive range, this ride also features an NFC key lock immobiliser, a motor you can switch between single and dual, front spring suspension, and 10" x 3" pneumatic tyres. These features enable you to take on steep hills and rough terrains easily.
Choose the VSETT 10+ if you want to ensure you can ride through any terrain that comes your way. However, note that the e-scooter is on the heavy side, with a total weight of 36 kg.
5. Bolzzen Atom Pro
The Bolzzen Atom Pro is an aptly-sized commuter e-scooter packed with decent power and range to get you through the city and beyond. It's powered by a 500 W motor that delivers up to 40 kph off-road (capped at 25 kph).
At 15.5 kg, this e-scooter offers a portable and versatile ride for the city and outdoors. Plus, its 48 V 13 Ah battery delivers up to 60 km on a single charge. Also, add a rear suspension to this e-scooter, and you get a compact transport that can take on rough roads.
The Bolzzen Atom Pro is perfect for riders who don't want a high-performance e-scooter but need a capable ride for city and minor off-road riding.
6. Dualtron Thunder 2
The Dualtron Thunder 2 offers a high-powered way of electric scooter commuting in Western Australia. Dubbed the best electric scooter in the world, the Dualtron Thunder features a 72 V 40 Amp battery that lets you travel up to 168 km on a single charge.
Supercharged by BLDC dual hub motors with a peak power of 10,800 W, this legendary ride can take you up to 88 kph off-road. Due to its high power, it's equipped with hydraulic brakes with ABS standard and 160 mm disks to keep you safe on the road. 
Overall, it's an ultra-powerful ride made for off-roading on private property. Unfortunately, due to its size, weight, and speed, you can't ride it in public since it doesn't fit the required specifications. Nonetheless, if you're interested in this awesome e-scooter, order the Dualtron Thunder 2 now! Limited stocks are available at Scooteroo!
7. Kintech Venom 10 Pro
If you're buying electric scooters in Western Australia, consider getting the Kintech Venom 10 Pro. This ride features a powerful single 1,200 W motor that lets you travel up to 80 kph on private property and 25 kph by default on public roads.
You also have the option to choose between a 60 V 20.4 Ah battery or a 60 V 24 Ah battery that delivers up to 70 km or up to 90 km, respectively. Besides these specs, this e-scooter is packed with 10-inch all-terrain tyres, front and rear hydraulic disc brakes, and front and rear hydraulic suspension to equip you on all your trips.
The Kintech Venom 10 Pro is perfect for riders who want a capable ride without the heaviness. This only weighs 26-28 kg, making it slightly lighter than most off-road e-scooters.
8. Razor Power Core E90
To break the string of powerful e-scooters on the list, the Razor Power Core E90 offers a highly portable and compact e-scooter for kids. This e-scooter features a 9.8-kg ride with a max speed of 16 kph and up to 80 minutes of continuous use.
If you're looking for a ride for your children or teens, the Razor Power Core E90 offers a safe and capable ride for short distances and leisurely trips. Plus, it comes in two colours, pink or green!
Browse Scooteroo's Wide Range of E-scooters and E-rides
If you're looking to buy e-scooters in Western Australia, hopefully, this list helped you find a suitable ride. Scooteroo offers various eco-friendly transportation in Western Australia. Visit our shop at Victoria Park or Osborne Park to see our range of models up close!
You can also order online via the Scooteroo online store, and shop from the comfort of your home. Scooteroo ships across Australia!
Finally, since this list includes many high-speed rides, Scooteroo reminds everyone to only ride at high speeds when travelling on private property. Also, know and follow your city or state's e-scooter laws to keep yourself safe on the road.