E-scooter Review: EleKtro Ultra 8 Pro vs. Segway Ninebot MAX Electric Scooter in Australia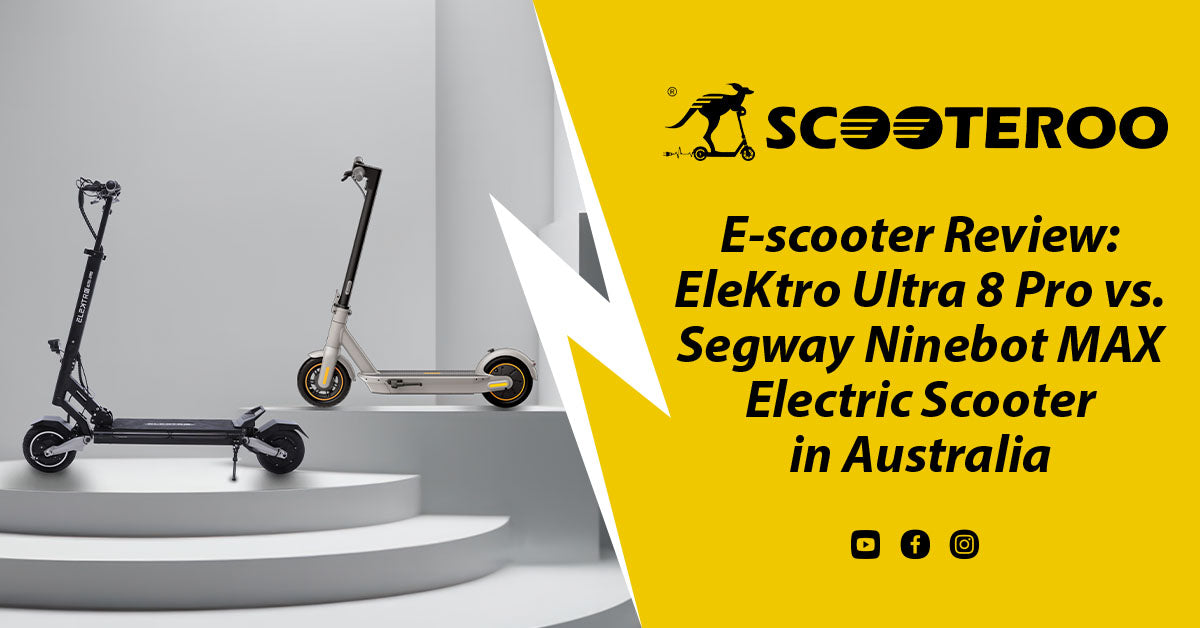 The Segway Ninebot MAX electric scooter in Australia is one of the most popular rides in the country, with its latest version being the Segway Ninebot KickScooter MAX G2. As one of the pioneer brands for e-scooters, Segway Ninebot e-scooters continue to have a foothold in the Australian e-scooter market.
However, the emergence of local brands like EleKtro challenges popular e-scooter brands like Segway. For example, EleKtro's best-selling e-scooter, the EleKtro Ultra 8 Pro, offers a well-rounded ride for city trips and slight off-roading. 
If you're thinking of getting either e-scooter, this e-scooter comparison breaks down each e-scooter's specs and features. Learn more about each ride below, and see which one suits your commuting lifestyle best.
Quick E-scooter Specifications Comparison
EleKtro Ultra 8 Pro

Segway Ninebot Max G2

Weight

24 kg

24.3 kg

Max Load

120 kg

120 kg

Motor

2 x 600 W Dual Motors

450 W

Battery

48 V 15.6 Ah

36 V 551 Wh

Top Speed

Up to 55 kph
(restricted to 25 kph)

Up to 35 kph
(restricted to 25 kph)

Max Range

Up to 55 km

Up to 70 km

Gradeability

20°

22%

Brakes

Drum Brake

Drum Brake
Electronic Brake

Tyres

8.5-inch Front Pneumatic, Rear Solid Tyre 

10-inch Pneumatic Tyres

Cost

$1,799

$1,699

Warranty

2 Years for Frame,
1 Year for Motor, Main Body,
Battery, and Controller 

1 Year for Vehicle Body
180 days for Other
Components
90 Days for Components
Subject to Wear
See the full Segway Ninebot MAX specifications here.
Design and Build Quality
At first glance, each e-scooter shows a different design. The Segway Ninebot KickScooter MAX G2 features a sleek and slightly larger design than the MAX G30. Meanwhile, the EleKtro Ultra 8 Pro showcases a bulkier and more rugged look, but it's still compact enough for city riding.
Regarding durability, both rides are built with premium materials. The Segway Ninebot MAX uses high-strength steel with a max load of 120 kg. Plus, it has an IPX5 rating, meaning it has protection against water spray at any angle. However, it doesn't have a rating for dust resistance.
On the other hand, the EleKtro Ultra 8 Pro has a tough aluminium body with a 120 kg max load. It also features an IP54 rating, meaning it's protected against dust and particle contamination and water sprays from all directions.
Overall, both e-scooters have a durable exterior. It depends on your preference which look you should go for.
Performance
When it comes to scooter performance, either e-scooter can take on city paths, slightly rough terrains, and low hills. However, it depends if you prefer high speeds or long distances.
If you want high speeds when riding on private property, consider getting the EleKtro Ultra 8 Pro. Thanks to its 2 x 600 W dual motors, it produces up to 55 kph. However, the default speed is capped at 25 kph to comply with e-scooter laws in Australia.
The dual motors also enable riders to travel on hills with a 20° gradeability. For range, the EleKtro Ultra 8 Pro delivers a max distance of 55 km, thanks to its 48 V 15.6 Ah battery.
On the other hand, if you prefer a long-range e-scooter, check out the Segway Ninebot MAX G2. This commuter e-scooter features a 36 V 551 Wh battery that delivers up to 70 km, making it ideal for daily trips or long-distance riding. Meanwhile, it delivers up to 35 kph and a 22% hill climb.
Scooteroo reminds all riders to observe your state's laws while riding and practise safe riding by wearing safety gear and being mindful of other riders, pedestrians, and vehicles. 
Portability
Both electric scooters are fairly portable, thanks to their average weight and foldable stem. The EleKtro Ultra 8 Pro weighs 24 kg, while the Ninebot MAX electric scooter weighs 24.3 kg. It's not as light as entry-level rides, but most riders can still manage to carry them when they need to transport the e-scooter to another location or on public transport.
Both are also foldable e-scooters, making it convenient for riders to park, store, and carry their e-scooters in small spaces.
Safety
Regardless of where you go, these two e-scooters are equipped with reliable braking systems and lights to keep you safe on the road.
The EleKtro Ultra 8 Pro uses a responsive drum brake and features front and rear lights. It's also equipped with bright, all-around deck lights, adding extra illumination when riding at night.
Meanwhile, the Segway Ninebot KickScooter MAX G2 features two braking systems: a front drum brake and a rear electronic brake. This double protection offers more control over your brakes and ensures a responsive and effective stopping power.
Although both e-scooters offer impressive braking systems, having two types of braking systems provides riders with more protection, control, and safety while riding. So, consider using the Segway Ninebot MAX e-scooter if you're looking for a safer ride between the two e-scooters.
Ride Quality
Both e-scooters feature a suspension system, enabling both rides to travel on city roads, gravel paths, low hills, and uneven terrain.
The EleKtro Ultra 8 Pro uses dual swingarm suspension that provides better handling and stability, especially when travelling on rough terrain.
Meanwhile, the Segway Ninebot MAX G2 uses front hydraulic and rear spring suspension to deliver smooth rides in the city or countryside. Plus, it has a Traction Control System to help maintain your stability when riding on slippery paths.
Overall, both rides offer excellent e-scooter user experience when riding in various terrains.
Customer Service
Both brands offer excellent customer service. If you have any concerns, you can contact them via email or website. EleKtro also has social media accounts on Facebook and Instagram, which you can also reach out to enquire.
Regarding warranty, Segway offers a one-year warranty for the vehicle body,  a 180-day warranty for components like the battery pack, charger, electronic throttle, and electronic brake, and a 90-day warranty for components subject to wear, such as the rear wheel, brake light, deck grip tape, kickstand, and more.
Meanwhile, EleKtro offers a longer warranty period with two years of coverage for the frame and one-year coverage for the motor, main body, battery, and controller.
If you're looking for a longer warranty period, consider getting the EleKtro Ultra 8 Pro.
Price
The Segway Ninebot MAX price in Australia costs $1,699, while the EleKtro Ultra 8 Pro costs $1,799. At first glance, the Segway Ninebot is the better option since it's cheaper than the EleKtro Ultra 8 Pro by $100. But what will you get at these price points?
The Segway Ninebot MAX is worth it if you're looking for a long-range, portable ride with reliable braking systems. Otherwise, if you prefer a high-speed and durable e-scooter with long warranty and excellent customer service, consider getting the EleKtro Ultra 8 Pro.
Ultimately, the one with the best price depends on the factors you're looking for in an e-scooter. Either e-scooter is worth it if it solves your riding needs.
Which Ride Is Better?
Both e-scooters offer great performance, excellent ride quality, and convenient features. The best ride is one that fits what you're looking for.
If you want a convenient, long-range e-scooter with a slightly more affordable price, consider the Segway Ninebot KickScooter MAX G2. Meanwhile, if you prefer a high-speed e-scooter with a long warranty and great repair services, get the EleKtro Ultra 8 Pro.
Overall, identify what you need when buying an e-scooter and see if either e-scooter solves your needs. 
Hopefully, this EleKtro Ultra 8 Pro and Segway Ninebot MAX scooter review helped you learn more about each ride and compare the two e-scooters against each other and your lifestyle.