EleKtro Flash Review: What Makes It Different?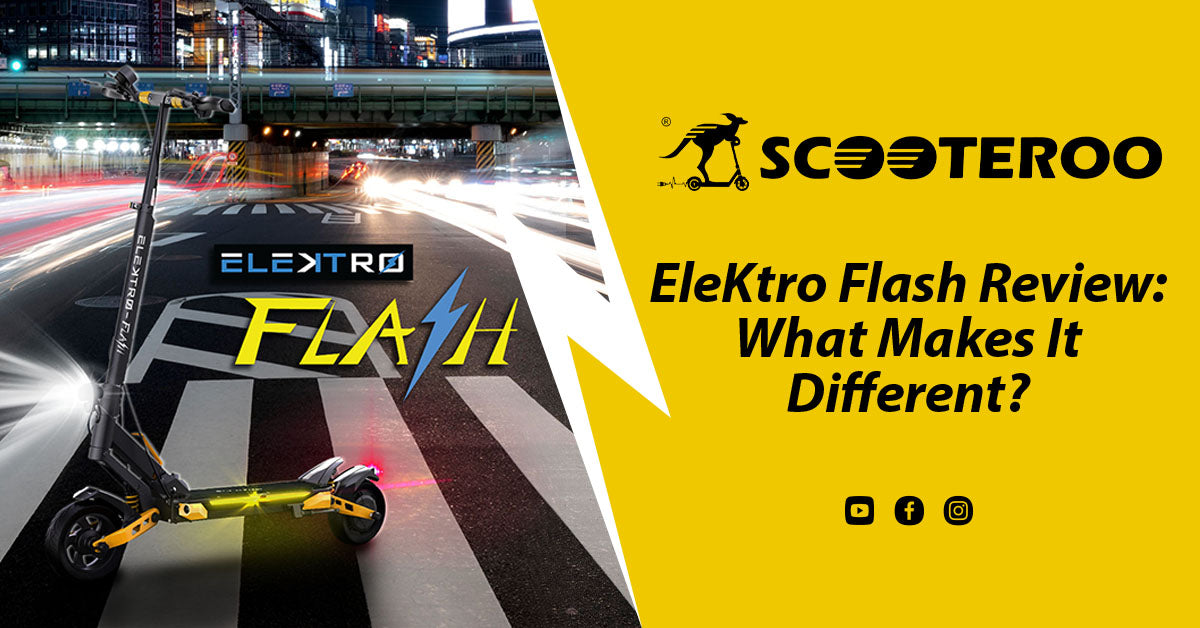 Australian e-scooter brand EleKtro has launched its newest e-scooter model, the EleKtro Flash electric scooter!
This compact, practical, and long-range electric scooter suits people looking for an affordable e-scooter with a long range, suspension, and other practical features. It's also perfect for riders who need a capable ride on hilly terrains.
But what makes the EleKtro Flash different? If you're interested in this brand-new model from EleKtro, this electric scooter review discusses its specs, features, and insights to help you see if this is the right e-scooter for you.
Aggressive, Flashy Design and Robust Exterior
The EleKtro Flash features a compact but sturdy ride with a black exterior and yellow accents on the suspension, deck, and handlebars.
However, besides its colour combination, its most eye-catching design is its 360° deck lighting, which includes very bright lights. Plus, it includes signal lights to add extra style and practicality to the lights. As a result, it showcases a 
Regarding build quality, it has a solid feel, and no component feels flimsy. It can carry up to 100 kg of load and has an IP54 rating, making it dust-resistant and water-resistant from sprays in all directions.
Excellent Torque and Three-Speed Gear Modes
Regarding performance, the EleKtro Flash uses a 350 W motor. It's slightly smaller than other e-scooter models in this category, but it offers one of the highest max speeds in its category.
The EleKtro Flash's motor can deliver up to 40 kph on private property, but it's restricted to 25 kph to comply with electric scooter laws in Australia. It also offers three gear modes to help you select the best speed for you.
The EleKtro Flash can also take on hills with a gradeability of 18°, making it an ideal ride for the hill terrains of Western Australia and other parts of the country.
Overall, the EleKtro Flash offers decent performance for its motor, build, and price.
High-Capacity Battery and Long-Range Capabilities
One of the highlights of the EleKtro Flash is its battery and range. This long-range electric scooter delivers up to 50 km per charge under ideal conditions. This is thanks to its 36 V 13 Ah battery, which can charge from four to six hours.
However, note that the actual range varies depending on factors like rider weight, terrain, and riding style. So, the EleKtro Flash may deliver a shorter range in hilly conditions. Nonetheless, it's an ideal long-range e-scooter for daily commutes and long trips.
Dual Spring Suspensions and Adjustable Stem
Unlike other models in its category, the EleKtro Flash e-scooter offers one of the most stable and comfortable rides due to its dual spring suspensions. In fact, it's the only e-scooter model in its price range that offers suspension. Overall, the dual swingarm suspensions offer a smooth and stable riding experience.
Besides this, its adjustable stem adds to its overall comfort and ride quality since you can adjust the stem according to your most comfortable or stable position. As a result, it's perfect for taller riders. This feature can also be seen in EleKtro's other e-scooter models like the EleKtro Ultra 8 and EleKtro Ultra 8 Pro.
Responsive Drum Brakes and Street-Legal Lights
An electric scooter in Australia must have safety features like fitted lights to be street-legal. The EleKtro Flash complies with these laws by providing a front and rear light. Plus, it includes signal lights for extra safety on the road.
Riders can turn the signal lights on or off via the buttons on the cockpit. This makes it easy to signal to other vehicles or pedestrians on roads, lanes, or footpaths, especially when riding at night.
Besides the light, it also uses drum brakes. Since it's not meant as an off-road e-scooter, the drum brakes provide enough stopping power for city rides. Generally, drum brakes are one of the most reliable types of brakes since they don't get damaged easily.
Space-Saving Exterior and Components 
The EleKtro Flash scooter is a slightly compact and practical ride, making it easy to transport and store.
Besides its dimensions, it has a foldable stem, allowing you to hold it by the stem when carrying it from place to place and storing it in small spaces. To further reduce its size, it also includes foldable handlebars.
Meanwhile, it weighs 22 kg. Although it's not as light as other compact commuter e-scooters, it's still within the street-legal limit of most e-scooter laws in Australia.
Best Value for Money
The EleKtro Flash e-scooter has a price of $1,299. Compared to other EleKtro e-scooter models, it sits between the EleKtro City and EleKtro Ultra 8. Electric scooters with similar price ranges include the Mearth RS, Ducati Pro II Evo, and Inokim Super Light 2. 
However, unlike its competitors, the EleKtro Flash is the only e-scooter in Australia that offers suspension, an adjustable stem, foldable handlebars, and all-around deck lighting. This combination of features doesn't exist in  its price range.
Besides this, EleKtro offers a longer warranty period than other e-scooter brands. They provide a two-year warranty for the frame and a one-year warranty for the official body, battery, motor, and controller. Having a longer warranty suggests that the brand is confident in the durability and reliability of its e-scooter.
And in case you need repairs for this e-scooter. EleKtro also offers repair and maintenance services. You can simply book an appointment via their website.
Pros and Cons of the EleKtro Flash Electric Scooter
To summarise, here are the perks and cons of the brand-new EleKtro Flash e-scooter.
Pros
High speeds on private property and long ranges

The only e-scooter model with suspension at its price point

Affordable price for its specs and features
Cons
Slightly smaller motor than competitors
Is the EleKtro Flash Electric Scooter Worth It?
Yes, the EleKtro Flash is worth it if you need a long-range electric scooter to take on hilly terrains and provide a comfortable riding experience. Given its combination of features, size, specs, and durability, it's one of the best electric scooters in Australia for its $1,299 price point.
If you want to inspect this e-scooter in person, visit our stores at Victoria Park and Osborne Park.
We are open from Monday to Friday 10 am to 6 pm, Saturday 10 am to 5 pm, and Sunday 11 am to 5 pm.
For more e-scooter reviews in Australia, check out our blog section.