EleKtro Ultra 10 Pro+ Electric Scooter Review: What Are the Upgrades?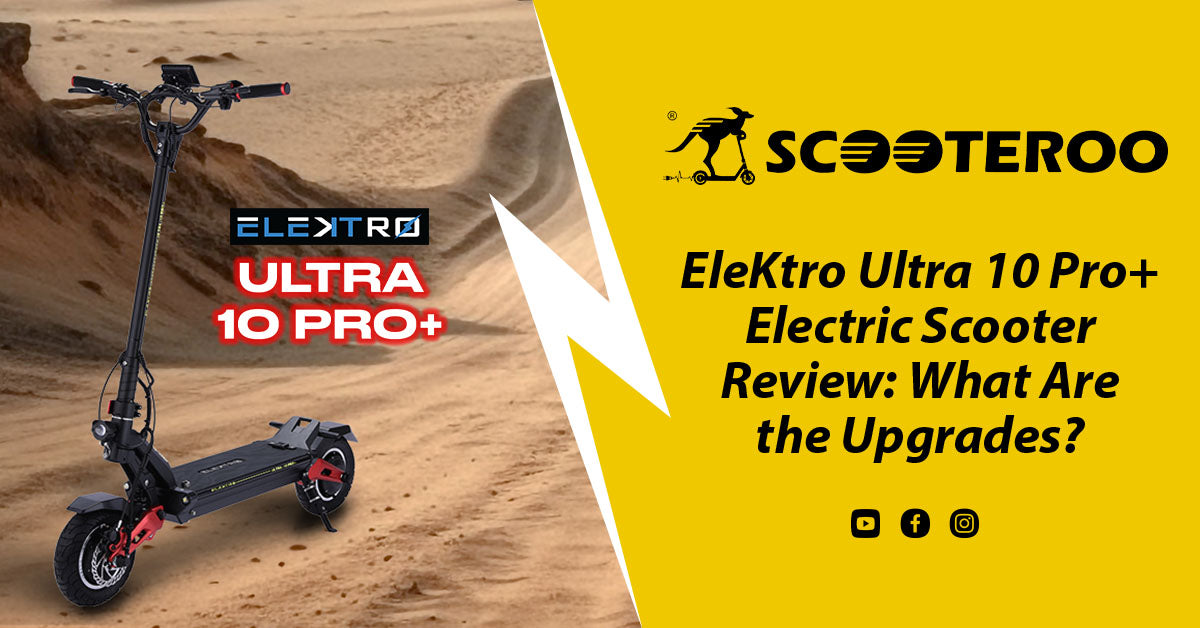 Australian electric scooter brand EleKtro launches their latest e-scooter, the EleKtro Ultra 10 Pro+! This upgraded version of the EleKtro Ultra 10 Pro features increased performance, efficiency, safety, and comfort. Plus, it introduces new technology you can't find in other EleKtro e-scooters.
But what are the upgrades that you can expect? Also, for $3,299, is the EleKtro Ultra 10 Pro+ electric scooter worth your money? This quick electric scooter review breaks down all the upgrades you'll see in this new edition.
Improved Design and Reinforced Build Quality
One of the first noticeable improvements of the EleKtro Ultra 10 Pro+ is its appearance. It still sports a black exterior, but now it's highlighted by striking red accents on its suspensions and handlebars. However, its sleek but sporty look still makes it stand out from other e-scooters.
Regarding build quality, the EleKtro Ultra 10 Pro+ features a highly durable aluminium alloy 6061. It's a material known for its strength, durability, and corrosion resistance. It makes this e-scooter perfect for off-road riding and various terrains.
Also, it's still a foldable e-scooter, allowing you to easily carry this to places or store it in small spaces.
Overall, the EleKtro Ultra 10 Pro+ offers a strengthened and levelled-up design, making it distinct from other e-scooters.
Better Motor Performance
The EleKtro Ultra 10 Pro+ e-scooter uses the same motor and battery capacity, but this time it's more efficient, delivering higher specs than its base model.
Its 2 x 1200 W dual motors coupled with its 30 Amp sine wave controller deliver a top speed of 75 kph. However, the top speed is capped at 25 kph by default to comply with Australian e-scooter laws.
Scooteroo reminds riders to always follow e-scooter laws in your city or state. We also don't encourage riding at high speeds for your safety. Ultimately, always wear safety gear like a helmet when riding on public paths or private property to keep yourself safe in case of any accidents.
More Efficient Battery and Longer Range
Meanwhile, this off-road e-scooter has a battery capacity of 60 V 24 Ah. The Ultra 10 Pro base model delivers up to 90 km, but the Ultra 10 Pro+ offers longer distances of up to 105 km. This longer distance makes it perfect for longer trips and people who want to charge their e-scooter less.
However, remember that the actual range varies depending on several factors, like terrain, speed, rider weight, and more. Riding any e-scooter in ideal conditions will give you the best possible range.
Enhanced Safety Features
Since the EleKtro Ultra 10 Pro+ electric scooter increased its performance, it also improved its safety features to keep you safe while riding. For one, it uses dual hydraulic disc brakes and an electronic braking system (EBS).
Hydraulic disc brakes are known for their strong stopping power and better control, giving riders a highly responsive braking system. It's the best type of brake for high-speed, off-road e-scooters.
Besides the brakes, this off-road ride includes a front and rear light. Plus, it is fitted with turn signals to help you signal to other riders, vehicles, and pedestrians when you're about to move lanes or make a turn.
The EleKtro Ultra 10 Pro+'s bright stem and deck lights also add an extra safety feature since its bright lights help illuminate your path and make you more visible to pedestrians and other vehicles at night.
Increased Comfort
Since it's an off-road e-scooter, the EleKtro Ultra 10 Pro+ must have excellent suspension, and this ride delivers. 
Its sporty swingarm suspension enables the e-scooter to smoothly and comfortably ride through rough terrains and steep hills. Thanks to its motor power, it can climb hill inclines up to 30°.
Pair this with the e-scooter's 10 x 3" city and off-road pneumatic tyre, and you have an e-scooter that provides stable and comfortable rides for chill and sporty trips.
Advanced Cockpit Features
The cockpit is one of the main differences between the EleKtro Ultra 10 Pro and the EleKtro Ultra 10 Pro+.
The EleKtro Ultra 10 Pro features a small circular display and an NFC lock to lock and unlock your e-scooter. Meanwhile, the EleKtro Ultra 10 Pro+ scooter uses a panoramic TFT display and a password-protected on-switch.
TFT stands for thin-film transistor, and it offers better visibility under bright daylight and has a longer lifespan, lighter weight, and better image quality than an LCD screen. As a result, it's easier to see all your riding information at a glance with a bigger and improved screen.
Besides this, the e-scooter features a password-protected on-switch to ensure that your e-scooter is protected from strangers or thieves accessing your ride.
Value for Money
The EleKtro Ultra 10 Pro+ e-scooter has a retail price of $3,299. That's $450 more than the EleKtro Ultra 10 Pro. Is this upgraded ride worth its price?
The EleKtro Ultra 10 Pro was already a very capable off-road ride, but the upgraded EleKtro Ultra 10 Pro+ offers twice as much performance, safety, technology, and comfort.
Compared to other e-scooters in its price, it delivers decent specs that can compete with other high-performing rides. Also, it offers features that you don't see much in its segment, like the panoramic TFT display, password-protected on-switch, turn signals, and stem and deck lighting system.
Plus, EleKtro offers a long warranty period for their e-scooters. You get a two-year warranty for the frame and a one-year warranty for the e-scooter's motor, battery, main body, and controller.
Overall, it's worth your money if you need this type of e-scooter in your lifestyle.
Pros and Cons of the EleKtro Ultra 10 Pro+ Electric Scooter
Here are the pros and cons of the EleKtro Ultra 10 Pro+ scooter.
Pros
Up to 105 km

30 amp sine wave controller

Panoramic TFT display

Password-protected on-switch

Strong and responsive brakes

Foldable e-scooter
Cons
Same motor and battery capacity as the Ultra 10 Pro

Gross weight of 37.7 kg
Is the EleKtro Ultra 10 Pro+ Worth It?
Based on its upgraded specs and new features, the EleKtro Ultra 10 Pro+ offers a high-performance and high-tech off-road ride, suitable for Australia's hilly terrains.
If you need an e-scooter as a daily ride across steep hills and rough paths, then this e-scooter can take you through various terrains without any problems. Plus, it'll leave you safe and comfortable, even in the roughest rides. Just look at how the EleKtro Ultra 10 Pro+ performs in this video.
For more Elektro electric scooter reviews in Australia, check out Scooteroo's reviews of EleKtro e-scooters and other e-scooter models on our
blog page
.