SurRon Ultra Bee Electric Dirt E-bike Review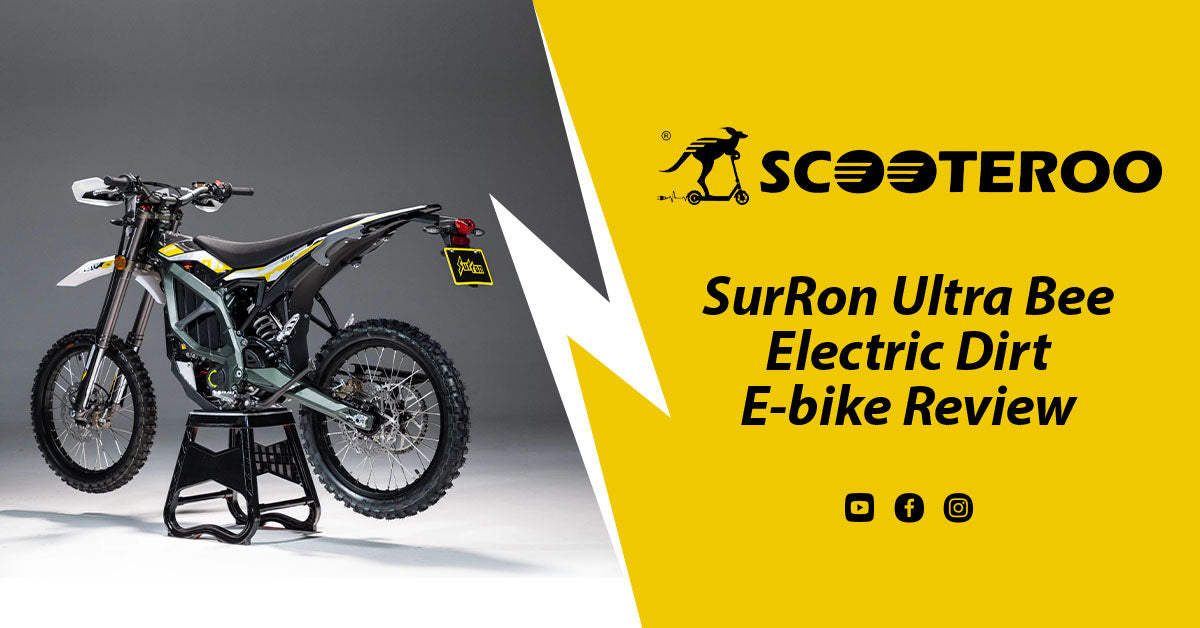 Founded in 2014, SurRon is an electric motorcycle and bike manufacturing company known for its most popular model, the Light Bee. The SurRon Light Bee is regarded as the original electric dirt e-bike, but since its release in 2018, SurRon has released more e-bike models, like the SurRon Ultra Bee.
The Ultra Bee is SurRon's mid-sized dirt e-bike, meaning it has a larger build than the Light Bee but is smaller than the SurRon Storm Bee (full-sized dirt e-bike). As a result, the SurRon Ultra Bee offers the best of both worlds.
If you're considering buying the SurRon Ultra Bee in Australia, this dirt e-bike review looks at its specs and features to determine if this e-ride is worth it.
Design and Build Quality
The SurRon Ultra Bee sports a similar design as the Light Bee but is bigger. It has a futuristic design but a ragged look, making it a cool and eye-catching ride.
Regarding build quality, this electric e-dirt bike uses forged aluminium alloy, giving it a highly strong frame that can withstand high-impact riding. Plus, this material has a light weight despite its durability.
When it comes to weight, the SurRon Ultra Bee weighs only 85 kg with a maximum load of 100 kg. A typical fuel-based motorcycle weighs around 136 kg to 226 kg, but the Ultra Bee offers an extremely light ride.
Meanwhile, one practical part of its design is the inclusion of a storage compartment underneath the seat. It's the right size to store your valuables and a few tools if you need them.
Overall, the Ultra Bee provides an eye-catching, lightweight, and durable ride.
Road and Off-road Performance
The SurRon Ultra Bee motor uses a Permanent Magnet Synchronous Machine (PMSM) power system, a brushless, electric motor with high efficiency and reliability.
The e-bike's permanent magnet rotor has a higher torque despite having a smaller frame size and no rotor current. With the Ultra Bee, this motor produces a max power output of 12.5 kW, max torque of 440 N.M., and a top speed of 90 kph. Its power makes it suitable for off-road performance, but note that the motor can get quite loud.
For the battery, it uses a 74 V 55 Ah Lithium-ion battery to produce a distance of 140 km based on a speed of 40 kph. It means you can get a higher distance if you go slower.
As with other e-rides, remember that the actual top speed and distance change depending on factors like rider weight, speed, riding style, terrain, and more.
But overall, the SurRon Ultra Bee offers smooth acceleration and strong motor power, perfect for city and off-road riding.
Safety Features
Since the Ultra Bee SurRon is a high-performance ride, it has excellent safety features in place. It uses a front and rear hydraulic braking system with twin-piston front callipers, resulting in a very responsive braking system.
Even at high speeds, you can trust the brakes will have a strong bite to help you control your speed during emergencies.
It's also fitted with a headlight, brake lights, turn signals, passenger pegs, and licence plate mount, making it a street-legal ride. And all of these components help you be more visible to other vehicles while riding.
Comfort and Ride Experience
Since the SurRon Ultra Bee is built for off-road performance, it doesn't fall short of comfort and ride quality. This ride makes sure that riders have a stable and comfortable riding experience wherever they go.
For one, the Ultra Bee provides spacious and comfortable seat cushions. It's more spacious than the SurRon Light Bee, allowing you to find a stable riding position. The position and length of the handlebars feel ergonomic, so you don't have to modify them.
However, one of the highlights of this dirt e-bike is its suspension. The suspension system features a 240 mm travel, allowing you to take on various terrains. 
When it comes to ride quality, it can take on rough roads and uneven terrains with ease. Although it can't completely take away the rattling and shaking, it can reduce the shocks from bumps on the road and make it easier to handle this dirt e-bike, especially on extremely rough terrain.
Also, the SurRon Ultra Bee is designed with a 50:50 weight distribution in the front and rear to give you better handling and stability.
Overall, along with its 80/100-19 front off-road tyre and 90/90-19 rear off-road tyre, the Ultra Bee's suspension and design offer good handling and stability.
Value for Money
You can buy the SurRon Ultra Bee in Australia for around $9,999. This is the exact retail price at Scooteroo. Motorcycles typically cost from $5,000 to $10,000. And while the Ultra Bee sits at the more expensive end of the price range, it's still within its standard cost of buying a motorcycle.
Plus, since the Ultra Bee doesn't need fuel to operate, it's significantly cheaper to own one in the long run. At this price point, you also get a powerful e-bike with excellent ride quality and an eye-catching look. Lastly, it's complete with safety features and accessories to make it street-legal and safe to use even at high speeds.
Overall, the SurRon Ultra Bee is worth your money if you need an eco-friendly, cost-effective, powerful, and safe dirt e-bike.
Pros and Cons of the SurRon Ultra Bee Electric Dirt eBike
Check out the perks and downsides of getting the SurRon Ultra Bee.
Pros
Perfect size for a dirt e-bike

Responsive and powerful brakes

Excellent suspension for off-roading

More spacious than the SurRon Light Bee

Eco-friendly Bike
Cons
May be expensive for some

Less nimble than the SurRon Light Bee

Loud motor
Is the SurRon Ultra Bee Electric Dirt eBike for You?
If you're looking for a powerful and eco-friendly bike, you can't go wrong with the SurRon Ultra Bee. It's a versatile dirt e-bike, given its size, power, and practical feature, making it perfect for city and off-road riding.
Consider what you're looking for in a dirt e-bike and your commuting needs to see if this is the best option for you.
If you've decided on the Ultra Bee but don't know where to get one, order your SurRon dirt e-bike via Scooteroo today!
Scooteroo also offers maintenance and repair services for all e-ride models. Just book a service and repair today!