Things to Consider Before Buying An Electric Commuter Scooter for Beginners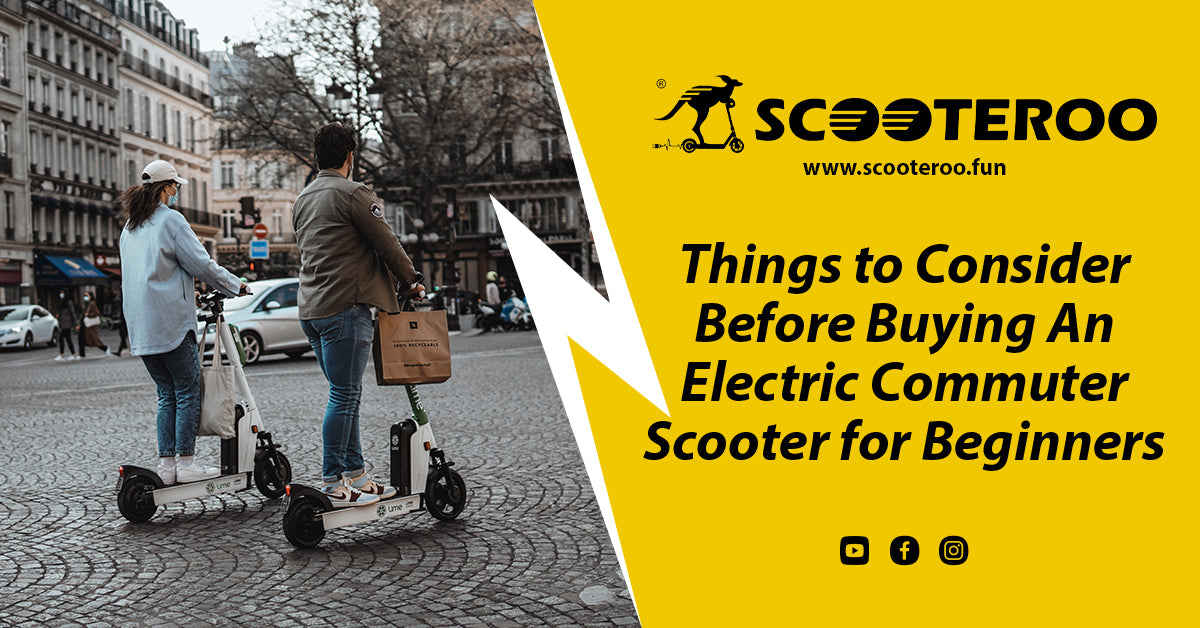 Are you considering using an electric commuter scooter to get around town? An electric scooter is a great way to get around quickly and easily without driving a car. If you're a beginner, you may have questions about the best electric scooter for commuting and how to get started. This blog post will cover the basics of riding an electric commuter scooter, from choosing the best electric scooter for your needs to safety tips for first-time riders.
Check the laws in your area
Before you begin riding your electric commuter scooter for adults, it's essential to know the laws in your area. Every state, city, and county may have different rules regarding electric scooters. Familiarize yourself with the regulations and restrictions before you get started.
Check with your local municipality for any special requirements for electric scooters. This could include licensing, registration, age limits, or speed limits. Electric scooters may be restricted to certain roads or paths in some areas.
It's also essential to understand any special laws that apply to riders of electric scooters. For instance, some cities may require riders to wear helmets while operating their electric scooters.
Knowing the laws in your area can help ensure that you stay safe and obey the law while riding your electric scooter.
Choose the right scooter
When selecting an electric commuter scooter for adults, it is essential to consider its size, weight capacity, range, speed, and power.
Some of the most popular models are foldable and lightweight for easy transport. The range of an electric scooter can vary from 8-15 miles on a single charge, so make sure you get a scooter that meets your needs.
Speed also matters: most scooters can travel up to 20 mph, but if you want to go faster, look for one with higher and more powerful motors.
Lastly, it's crucial to think about the weight capacity of your electric commuter scooter; typically, these scooters can handle up to 265 lbs, but some models can support even heavier loads. With these factors in mind, you can find the right scooter.
Get familiar with the controls
When riding an electric commuter scooter for adults, the key is to make sure you're familiar with all the controls. Electric scooters come with handlebars, throttle, brakes, and indicator lights.
The throttle is the acceleration control and will increase the scooter's speed. Brakes are self-explanatory, and indicator lights indicate whether the motor is running.
It's important to familiarize yourself with these controls to be comfortable and confident while riding your electric scooter commute to work. Make sure to practice in a safe area until you're comfortable before taking it out on the streets.
When looking for the best commuter electric scooters, look for one with easy-to-use controls. Different models have different controls and safety features, so understand what each control does and how it works before making a purchase.
Start slow
When you first get your electric commuter scooter for adults, starting slow is essential. After all, safety should always come first. Even though electric scooters are powerful and can travel quickly, it's a good idea to take your time and learn the basics of riding before getting to higher speeds.
When first starting out, take a few practice runs in an area with little to no traffic. Please pay attention to the scooter's controls and understand how they affect the speed. Practice braking and turning in different directions, and ensure you know how the scooter responds. Please ensure you're comfortable with the speed and feel of the electric scooter before taking it on busy streets or highways.
Consider joining a local electric scooter commute workgroup. This will allow you to ride with others and get advice from more experienced riders. Once you're comfortable with the speed and handling of your electric scooter, you can start riding it for your everyday commute.
With the right precautions, electric scooters are a great way to get around town and can be one of the best commuter electric scooters for adults.
Be bold and ask for help
Electric commuter scooters for adults can be intimidating, especially if you're starting. Feel free to ask for help if you feel overwhelmed. You can contact family, friends, or fellow electric scooter riders for advice and tips. In addition, online communities such as Reddit and YouTube can provide insight into the best electric commuter scooters for adults and answer any questions you may have.
If you have specific questions about a particular model or brand of electric scooter, don't be afraid to ask around for opinions. There are plenty of experts who can provide valuable feedback about different models and brands of commuter electric scooters.
Finally, don't hesitate to contact an electric scooter manufacturer before purchasing. They should be able to provide you with detailed information about the product, including features, technical specifications, and pricing. Doing so will help ensure you select the best commuter electric scooter.
Buy Your First Electric Commuter Scooter At Scooteroo
If you're looking to get an electric commuter scooter for adults in Australia, look no further than Scooteroo. We offer the best electric scooters to help make your daily commute to work more accessible and enjoyable. Whether you're a beginner or a seasoned pro, we have the perfect electric scooter.
At Scooteroo, we understand that everyone's needs are different when commuting. That's why we offer a wide variety of electric scooters to suit every need and budget. We carry the best commuter electric scooters in the industry from brands like Mearth, Dualtron, Bolzzen, and more. Contact our team and find the best electric ride of your life!