How to Choose the Best Electric Scooter for Your Needs and Budget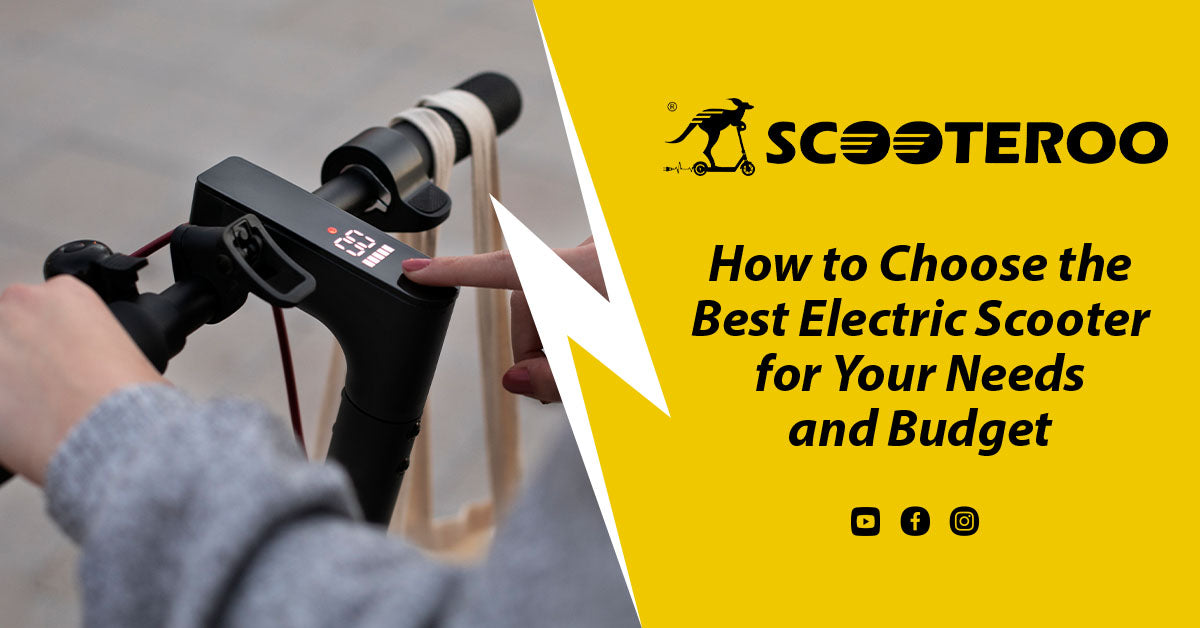 As more workers, students, and individuals switch to convenient, eco-friendly, and portable transport solutions like electric scooters, you might also think it's time for you to get one.
However, there are countless e-scooter brands and models in the market, and it can be overwhelming to choose one.
If you're having difficulty deciding which e-scooter to get, this article offers a step-by-step guide to finding the best electric scooter in Australia based on your needs and budget!
STEP 1: Identify Your Purpose
Start by asking yourself why you need an e-scooter in the first place. Do you need to commute to work? Do you want a fun and convenient way to go to school? Do you want to reduce your carbon emissions?
Some of the common reasons people choose electric scooters over cars and motorcycles include:
E-scooters offer an affordable private device for commuting.

It doesn't emit any harmful gases.

Most states don't require a licence to ride them.

It's relatively easy to use.

E-scooters are fun to ride.

It's perfect for individuals without parking or living in small spaces.
Your reason may be one or none of these. Regardless, it's important to identify your purpose of getting one to know your goal and see if it's reasonable for your lifestyle. Make sure to determine your purpose first before proceeding to the next step.
STEP 2: Know the Different Types of Electric Scooters
After deciding why you want to buy one, it's time to research e-scooters. There's plenty of information online about them. Our blog section alone offers countless guides, reviews, and comparisons. However, you should start by knowing the different types of electric scooters available.
Learn about each type of e-scooter and see which type suits your needs best.
Entry-level Electric Scooter
Entry-level electric scooters are the most basic types of e-scooter you can buy. It's usually slim, lightweight, and compact, with foldable and non-foldable versions.
It also includes all the essential features of an e-scooter, such as a brake, small screen display (some models don't have one) and bell. You'll seldom find advanced technology incorporated into entry-level e-scooters.
Regarding performance, they also include small single motors that produce up to 300 W. Meanwhile, their battery capacities deliver an average range of 16 km to 40 km.
Lastly, entry-level e-scooters are the most affordable. If you're looking for the best budget electric scooter in Australia, consider checking entry-level e-scooters. Just note that these types of e-scooters may not always be the most durable.
Examples of entry-level electric scooters include the BLVD Urban and EleKtro City.
Commuter Electric Scooter
Commuter electric scooters are the standard e-scooters since they offer a good balance of performance, features, portability, and durability.
They offer most e-scooter features and the latest technology, such as smart app connectivity. For performance, some models use dual motors and produce up to 600 W on a single motor. Meanwhile, their batteries are large enough to reach a maximum average range of up to 55 km.
Regarding price, many commuter e-scooters are still affordable, but some can already be considered pricey for some. The average price of a commuter e-scooter is $1,200.
If you want an e-scooter with tech features, decent performance, and a longer range than entry-level rides while still being portable, consider getting a commuter electric scooter.
Examples of commuter electric scooters include the EleKtro Flash, Mearth RS, and NAVEE S65.
Off-road Electric Scooter
Off-road or high-performance electric scooters offer riders high-powered, durable models that can travel at fast speeds, long ranges, and various terrains.
Its motors can go over 1,200 W per motor, and the fastest tested top speed is 99 kph using a Kaabo Wolf King GT. Meanwhile, their batteries are large enough to travel around 100 km or more.
However, given their large specs and components, off-road e-scooters are quite heavy. Although some of them are foldable and can still be carried, they're not convenient for daily commutes.
Also, bear in mind that the off-road e-scooter's high specs make it illegal on public roads. Most models are restricted to Australia's default speed of 25 kph, but the off-road e-scooter's dimensions usually don't fit the law's requirements. Learn your city or state's e-scooter laws to know what type of e-scooter you can ride in public.
Examples of off-road electric scooters include the VSETT 11+ SUPER 72, EleKtro Ultra 10 Pro+, and Dualtron Storm.
STEP 3: Learn about the Key Features of an E-scooter
After learning about the different types of e-scooters, you can now go deeper into their essential components to help narrow down your choices.
These components or factors will help you know what you should look for in an e-scooter and help you determine which factor to prioritise.
Battery Life
The battery is the most essential component of an e-scooter as it powers all the components. It's also the part you should look at if you want to go long distances. Generally, a larger battery capacity equals a longer battery life, resulting in a longer range per charge.
Entry-level e-scooters tend to have smaller batteries since they aim to be lightweight and portable. Larger batteries mean less portability.
Motor Power
The motor determines the e-scooter's speed and acceleration. If you want to go at high speeds for off-roading, look for an e-scooter with a high motor power output.
However, if you don't need a fast speed for daily commutes, getting an e-scooter with a motor output of around 300 W is enough.
Safety Features
As with any vehicle, safety is important. You'd want your e-scooter to be well-equipped with safety features like brakes and lights to avoid accidents on the road.
If you want extra protection, choose an e-scooter with multiple braking systems, like a combination of a disc brake and electronic anti-lock braking system.
However, regardless of the e-scooter, remember that wearing safety gear, like a helmet, and responsible riding are the keys to keeping yourself and others safe while riding.
Portability
Lastly, consider the size, weight, and practicality of the e-scooter. If you need a daily ride for work, an entry-level or commuter e-scooter that's lightweight, foldable, and compact will suit you best.
Either type is the best electric scooter for adults since it lets you carry the e-scooter up the stairs, bring it with you on public transportation (if allowed) or elevators, and store it under desks or small spaces.
If you want the ultimate convenience, look at the e-scooter's size, weight, and foldability.
STEP 4: Determine Your Budget
E-scooters are available at different price points, but how much are you willing to spend? 
A good budget electric scooter ranges from $300 to $900, while a commuter e-scooter ranges from $800 to $1,200. Off-road e-scooters generally cost over $1,200. 
You might think, "The best electric scooter is cheap." After all, as long as it works, it's fine. However, know that you get what you pay for, and some e-scooters are expensive for a reason.
That's why expensive e-scooters are an investment. Understand that a budget electric scooter may not last and may be unreliable and unsafe. While it's important to consider your budget, don't let it stop you from getting what you need.
STEP 5: Research and Compare Electric Scooters
Hopefully, by now, you have already identified what type of e-scooter you want, what you prioritise in an e-scooter, and how much you can spend. When you already have a clear understanding of what you're looking for in an e-scooter, it's time to research and compare electric scooters that fit your needs.
Start by browsing the websites of brands and retailers in Australia. Feel free to check Scooteroo's wide range of electric scooter models and parts. Then, list down the models that caught your eye or that fit your criteria.
Once you've got your list, learn more about each e-scooter and compare their specs and features. Reading online e-scooter reviews will also help you get insights on the e-scooter.
If you have any questions, don't hesitate to ask the brand or retailer about a specific e-scooter model. It's best to get your answers from the people who made it or are knowledgeable about it.
Most importantly, look at customer reviews and consider positive and negative feedback. All these will give you the knowledge and insight to decide which e-scooter to get.
STEP 6 (Optional): See Your Options in Person
If possible, visit a store to check the e-scooter in person. See if its size suits your height and weight. If possible, take it for a test ride to see if you can ride it well.
This step is optional, but it'll definitely help you in deciding what e-scooter to buy. Seeing the e-scooter in person and testing it out also prevents you from false expectations.
If you want to check our available e-scooters, visit our shops at:
Victoria Park


Address:

Shop 2 Vic Quarter, 660 Albany Highway, Victoria Park, WA 6100




Operating Hours: Mon to Fri at 10 AM to 6 PM, Sat to Sun at 10 AM to 5 PM
Osborne Park


Address: 3/488 Scarborough Beach Road, Scarborough, Osborne Park, WA, 6017




Operating Hours: Mon to Fri at 10 AM to 6 PM, Sat to Sun at 10 AM to 5 PM
Midland Park


Address: 2/182 Great Eastern Highway, Midland, 6056




Operating Hours: Mon to Wed at 10 AM to 6 PM, Thu to Sun by appointment only at 12 PM to 5 PM 
Choose the Best Electric Scooter for You
After going through this process, we hope you're able to narrow down your choice to one e-scooter. If you need help selecting the best electric scooter for you, don't hesitate to contact our team.
Scooteroo would also like to remind riders to always learn about your city or state's e-scooter laws to prevent using illegal e-scooters in public and breaking regulations.
Ultimately, we strongly recommend wearing a helmet and safety gear, whether you're riding on public roads or private property.