Scooteroo Brings E-scooters and EVs at the Perth Caravan & Camping Show 2023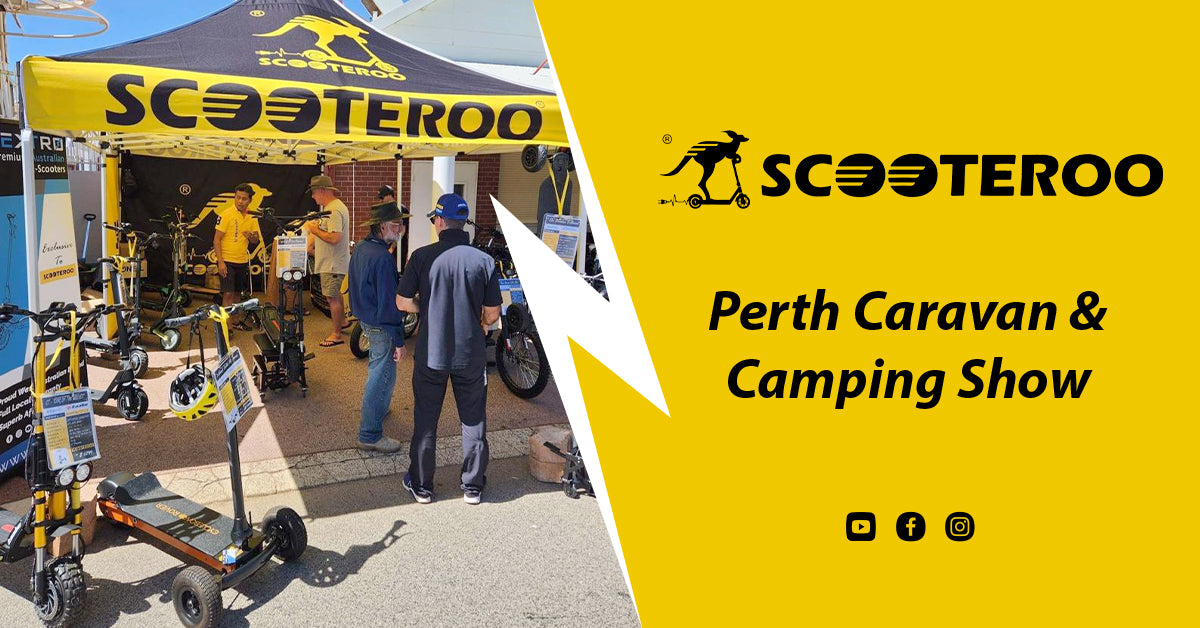 Scooteroo, Australia's leading electric scooters and PEVs company, finishes a successful exhibit at the 50th anniversary of the Perth Caravan & Camping Show at the Claremont Showground that ran from 22-26 March.
The team brought several of their top-selling electric scooters, electric bikes, and electric skateboards, garnering attention and excitement from the massive crowd at the show. Some featured e-scooters include powerful models, like the Kaabo Wolf Warrior and Kaabo Wolf King GT, and compact commuter e-scooters, like the VSETT 9.
Zero 8 Electric Scooter
Scooteroo also offered a special discount for the Zero 8 during the showcase. It's a compact commuter electric scooter with a 48V 13Ah battery, 8 ½-inch front pneumatic and rear solid tyres, a rear drum brake, and a maximum range of 35 km. As of writing, you can still get this unit on sale at our online shop.
STACYC 16-inch Electric Balance Bike for Kids
Besides these, the team displayed and sold e-bikes, like the STACYC 16-inch electric balance bike for kids. The specs include 16-inch composite wheels with pneumatic tyres, a high-output brushless motor, and a 17-inch seat height. These e-balance bikes are perfect for ages five to seven with a little experience in cycling. Also, the kids should be under 75 lbs with 18-24-inch inseams.
The booth also included Evolve electric skateboards, such as the Evolve GTR Series 2. It's a carbon-fibre, all-terrain e-skateboard with a 39-inch length, 7-inch pneumatic wheels, and a 3000W dual motor that can ride up to 38 kph. Overall, this skateboard offers the ultimate e-skateboarding experience thanks to its durability, performance, and feel underfoot. 
Sur-Ron Electric Bike Customised with a 4MF Moto Kit
Finally, one of the showstoppers during the exhibit was the EBMX displays, such as the Sur-Ron Light Bee X dirt e-bike and a Sur-Ron electric bike, customised with a 4MF Moto Kit. The Sur-Ron Light Bee X is an all-terrain EBMX powered by a 5400 W brushless motor and 60V 40Ah Lithium battery.
Scooteroo Showcases EleKtro
EleKtro Electric Scooters
Aside from the company's most popular brands and models, Scooteroo also showcased its very own premium e-scooter brand, EleKtro. Featuring best-in-class build quality, high-standard performance, and innovative technology, EleKtro launched four e-scooter models made for every commuting need.
The EleKtro City is a 13-kg portable electric scooter fit for quick trips around your city. It features a solid build quality and a 400-W motor that produces a max range of 40 km and a top speed of 30 kph (restricted to 25 kph). Plus, it has a smart LCD screen and removable grips for compact storage.
If you need more power for your daily commutes, the EleKtro Ultra 8 offers specs above its class. This commuter electric scooter features a highly secure NFC lock, dual swingarm suspensions, adjustable stem and handlebar, and stylish 360° deck lights. Plus, it includes a 600-W motor that allows you to travel up to 50 kph (restricted to 25 kph) and up to 55 km.
Meanwhile, if you need extra speed and power than the Ultra 8, the EleKtro Ultra 8 Pro uses dual 600 W motors that produce up to 55 kph (restricted to 25 kph) and up to 55 km. Like the Ultra 8, it also comes with the NFC security lock, dual suspension, adjustable stem and handlebar, and all-around deck lights.
Finally, the EleKtro Ultra 10 Pro caps off the Ultra series by offering a highly powerful dual 1200 W motor. This high-performance electric scooter features an advanced one-clamp folding mechanism for easy folding and unfolding, an app-controlled LED lighting system, and dual swingarm suspensions for better stability and comfort. The EleKtro Ultra 10 Pro offers everything you'll need in an off-road e-scooter for ultra satisfaction.
Check out their official website to learn more about EleKtro.
More about the Perth Caravan and Camping Show
Scooteroo at the Perth Caravan & Camping Show 
Organised by the Caravan Industry Association Western Australia, the Perth Caravan and Camping Show is Western Australia's biggest caravan and camping showcase. It features leading brands, dealers, and manufacturers catering to all your outdoor adventure needs, from caravans and trailers to gadgets and outdoor accessories.
Aside from Scooteroo, some of its exhibitors included Base Camp Australia, Lewis RV, Evakool, United Fuel Injection, and the Maritime & Road Information Hub.
Overall, the exhibitors came from different industries, such as caravans, caravan repairs, motorhomes, camper trailers, tourism, 4WD, automotive, camping equipment, insurance and finance, outdoor accessories, and lifestyle products. 
Beside its exhibits, the event also featured competitions, demonstrations, live music, seminars, and various activities for the whole family to enjoy.
The event gathered thousands of visitors during its five-day run, and Scooteroo received a lot of foot traffic and made good sales, especially during the busy weekends. Overall, it was a successful exhibit for the Scooteroo team and the other participants in the event.
The Scooteroo team enjoyed talking with customers and fellow e-ride enthusiasts. We're also thankful for the opportunity to showcase our best-selling e-scooters, e-bikes, e-skateboards, and EBMX, especially our brand EleKtro electric scooters. 
Scooteroo hopes to see you again next time!
Scooteroo is a one-stop centre for electric scooters, PEVs, electric bikes, electric skateboards, mobility vehicles, and hi-tech lifestyle gadgets in Western Australia. Explore our range of
products
, and find the best e-ride for you!