EleKtro City Electric Scooter Review: Is It the Best Entry-level Electric Scooter?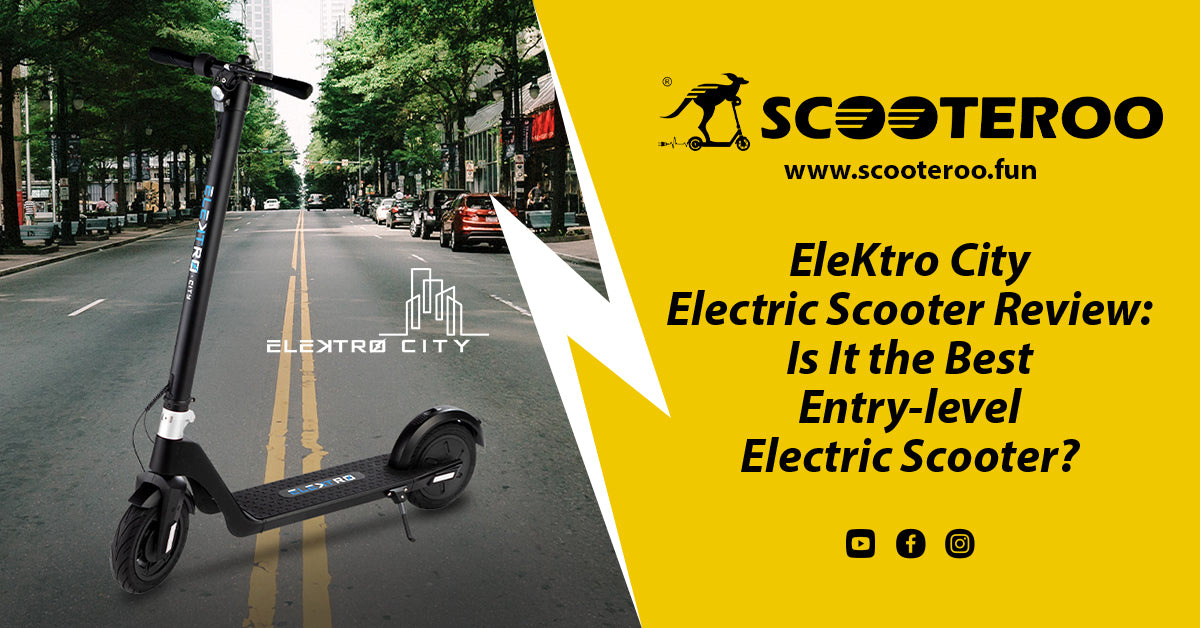 As more commuters prefer sustainable mobility devices to cars and public transit, more riders lean toward practical and portable electric scooters. Specifically, most commuters prefer entry-level electric scooters since they are more affordable, lightweight, and simple to use.
However, one problem many riders notice with entry-level e-scooters is their lack in power and performance, giving less speed and distance. Plus, it tends to have a cheaper build since it costs less.
But the EleKtro City electric scooter proves it's possible to have a portable entry-level electric scooter without sacrificing speed, range, and build quality. More importantly, it has a reasonable price.
So, is it the best city ride available? Decide for yourself as we take a look at its specs and features below in this electric scooter review.
Design and Build Quality
At first glance, the EleKtro City is a slim and compact ride with a minimalist black exterior, accented by the EleKtro logo on its slightly thick stem and anti-slip pedal. It looks similar to other entry-level e-scooters in the market, but it's still distinguishable by its logos and silver folding ring in the stem.
Meanwhile, regarding build quality, this commuter electric scooter feels pretty solid. The body is made from strong aluminium alloy and can hold up to 100 kg of maximum load. Overall, the EleKtro City is a simple scooter with a highly durable exterior.
Portability
This foldable electric scooter prioritises portability, starting with its weight and dimensions. It weighs 13 kg, which is the standard weight for portable e-scooters, and has a sleek, compact design.
Besides this, its folding mechanism helps reduce its size and makes transporting the EleKtro City from one place to another easier. Also, it's easy to fold and unfold, and it locks securely when you fold the stem to the rear fender.
The EleKtro City electric scooter also features removable grips if you want to reduce its dimensions further when storing it. Since they're removable, it's possible to replace them with your preferred grips. But there's no need to replace the anti-slip grip since they're ergonomically designed to fit well in the rider's hands.
When it comes to portability, the EleKtro City includes most of the features riders would want, such as a light weight, foldable stem, compact body, and removable grips, making it a highly portable electric scooter.
Motor and Battery
Despite being a lightweight electric scooter, the Elektro City uses a 400 W motor. Usually, the bigger the motor power, the heavier it is, as seen in most high-performance electric scooters like the EleKtro Ultra 10 Pro and MiniWalker MW10DDM.
You also seldom see an entry-level electric scooter with a 400 W motor, as most e-scooters in its class use a 200 W to 350 W motor. As a result, the EleKtro City offers a higher performance that can ride through most urban paths and 15° slopes.
Meanwhile, regarding battery, the Elektro City electric scooter uses a 36V 10.4Ah lithium-ion battery, which can deliver enough distance per charge. It also has a charging time of three to four hours, typical of other entry-level e-scooters.
When it comes to its motor and battery, the EleKtro City offers bigger specs than most e-scooters in its category. As a result, you can expect more from its performance.
Speed and Range
Regarding performance, the EleKtro City delivers slightly more than its peers. Thanks to its motor power, it can produce up to 30 kph of speed (restricted to 25 kph as per e-scooter law in Australia). We recommend trying the top speed only if you're riding on private property.
Meanwhile, its battery allows up to 40 km of range on a single charge. Under good conditions, that's a long distance for an entry-level e-scooter. However, remember that top speed and max range depend on several factors, such as the rider's weight, terrain, and power usage.
Safety Features
The EleKtro City doesn't lack safety features. It includes a front drum brake and a fender that can be used as a foot brake. Drum brakes generally offer strong and responsive braking power. This e-scooter's drum brakes provide enough bite to help you stop immediately, especially during emergencies.
This entry-level electric scooter also uses 10-inch pneumatic tyres that feature an anti-slip design to prevent you from slipping in wet conditions. Lastly, the EleKtro City includes side reflectors on the front and rear wheels, a bright front light, and a tail light to make you more visible to other vehicles and pedestrians, especially at night.
Rest assured that the EleKtro City will keep you safe on the road if you follow e-scooter laws and traffic rules.
Comfort and Ride Quality
Unlike the EleKtro Ultra 8, Ultra 8 Pro, and Ultra 10 Pro, the EleKtro City doesn't feature any suspension. After all, it's an entry-level electric scooter, so it's not built for extreme terrains despite its durable exterior. However, that doesn't mean it's not comfortable to ride in.
Its 10-inch pneumatic tyres help cushion the ride and make it stable while riding. It absorbs the shocks and reduces rattles when riding through cobblestones, brick paths, and other rough roads.
Also, positioning yourself and balancing on the e-scooter is easy since you have enough room to stabilise yourself on the narrow deck. Overall, the EleKtro City rides smoothly thanks to its tyres and overall build quality.
App Connectivity
Another feature that sets the EleKtro City from other entry-level commuter electric scooters is its advanced app connectivity. Most entry-level rides don't include any smartphone connectivity, making the EleKtro City an advanced model for its class.
The app allows you to connect the EleKtro City to your smartphone, making monitoring its condition, controlling its settings, and seeing your riding information easier. The app also lets you check your battery levels, lock and unlock the e-scooter, change the lights, and activate cruise mode. You can also upgrade the firmware via the app.
For a tech-savvy rider, it's a convenient way to keep track of your e-scooter's condition, learn more about your rides, and get more out of the EleKtro City.
Value for Money
The EleKtro City currently costs $899 on Scooteroo, which is reasonable, given its specs and features. Although it costs slightly more than some entry-level commuter electric scooters, remember that the EleKtro City has a bigger motor than its peers, better performance, a more durable build, and an app connectivity feature.
For less than $1,000, you get more for an entry-level ride, making it great value for money. 
Pros and Cons of the EleKtro City
Here are the pros and cons of this portable electric scooter.
Pros
Bigger motor for its class

Easy-fold mechanism

Advanced app connectivity feature

Slim, lightweight, and compact body

Durable aluminium alloy body

Removable grips

Better speed and range than its peers

Smooth and comfortable rides

Great value for money
Cons
Simple look you can see in other entry-level rides

Slightly costs more than some of its peers

No 360° lighting system, unlike the EleKtro Ultra series
Should You Get the EleKtro City for City Commutes?
Overall, the Elektro City is a compact, lightweight, and portable electric scooter that's stronger and more powerful than it looks. Although it can't compete with some commuter electric scooters like the EleKtro Ultra 8 or the VSETT 9, it's undeniable at the top of its class.
We highly recommend the EleKtro City for daily commuters who need a ride that can cover enough distances per charge, go through most urban environments easily, and has portable and connectivity features. While it falls under the most basic category for electric scooters, you won't feel the EleKtro City lacks anything.
Hopefully, this electric scooter review helped you learn more about this portable ride. Check out the EleKtro City electric scooter today, and follow the official Scooteroo Facebook page for our latest news, deals, and discounts!