VSETT 9 Vs. EleKtro Ultra 8: Which Ride Should You Choose?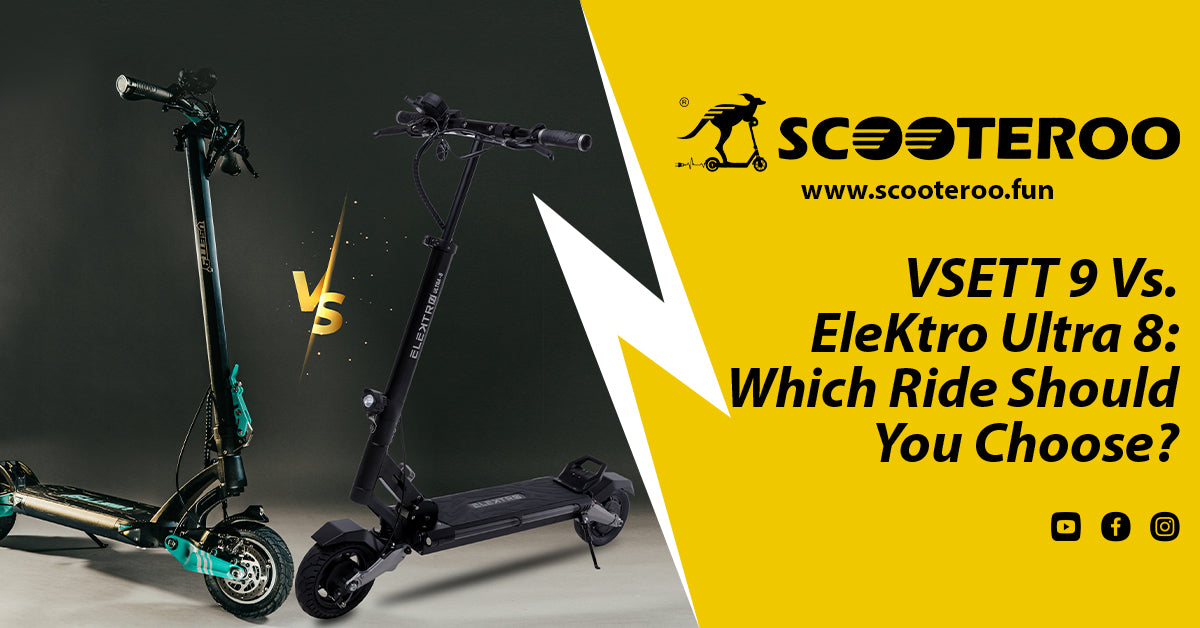 Most compact commuter electric scooters usually lack power for the sake of portability. However, few models prove it's possible to be compact but powerful.
The VSETT 9 and EleKtro Ultra 8 offer long ranges and decent motor power to tackle most roads. Although they're less powerful than high-performance electric scooters, they're more than enough for daily or long commutes.
However, which is the better choice between the two? This article compares these rides in this comprehensive EleKtro Ultra 8 and VSETT 9 electric scooter review.
Quick Specs Comparison
Here's a comparison of the EleKtro Ultra 8 and VSETT 9 specs at a glance.
VSETT 9 52 V 17.5 Ah
EleKtro Ultra 8
Material
Aluminium Alloy
Aluminium Alloy
Weight
23 kg
22 kg
Motor
Single 650 W
Single 600 W
Battery
2 V 17.5 Ah
48 V 15.6 Ah
Charging Time
Up to 4.5 hours (2*2Ah charger)
Up to 8.5 hours (1*2Ah charger)
Up to 8 hours
Top Speed
Up to 45 kph
(Restricted to 25 kph)
Up to 50 kph
(Restricted to 25 kph)
Max Range
Up to 80 km
Up to 55 km
Gradeability
18°
N/A
Brakes
Disc Brake, EABS
Drum Brakes
Suspension
Front Import Springs Suspension
and Rear Hydraulic Suspension
Front & Rear Sports
Swingarm Suspension
Folding Mechanism
Two-step Folding
Mechanism
Easy-fold Mechanism, Foldable Handlebars
Cost
$2,388.95
$1,499
IP Rating
IP54
N/A
Customer Service
Responsive
Responsive
Design
The VSETT electric scooter features a black body with aqua highlights on its handlebars, folding mechanism, and wheels. Meanwhile, the EleKtro electric scooter has a black exterior with a 360° deck lighting system and subtle silver accents on the handlebars and wheels.
Both e-scooters are similar in structure, having a wide stem and deck and a pretty solid build. However, the EleKtro Ultra 8's stem thins out at the top due to its adjustable stem length.
In terms of folding mechanism, the VSETT 9 uses a two-step folding mechanism to fold it in half, while the EleKtro Ultra 8 uses an easy-fold mechanism, allowing you to effortlessly fold the e-scooter in half. The Ultra 8 also has foldable handlebars, making it more compact and portable for storing.
If you're looking for a slightly compact ride with a durable build and practical design, consider getting either e-scooters. However, if you want an e-scooter with an IP rating, the VSETT 9 has an IP54 rating, which protects it from dust and water from all directions. Choosing one based on its design will depend on your style preferences.
Performance
The VSETT 9 electric scooter runs on a single 650 W motor with a 52 V 17.5 Ah VSETT 9 battery and delivers up to 45 kph (restricted to 25 kph to comply with electric scooter laws in Australia) and a max range of 80 km.
Meanwhile, the Ultra 8 features a single 600 W motor with a 48 V 15.6 Ah battery, producing up to 50 kph (limited to 25 kph) and up to 55 km.
In terms of motor and battery, the VSETT 9 scooter is slightly bigger than the Ultra 8 EleKtro electric scooter and other commuter electric scooters. Because of its bigger motor, it has a longer range than the Ultra 8. Plus, it can travel through rougher terrain, including slopes with an 18° hill grade.
However, it's slightly far behind the Ultra 8 with its top speed. But that's not a problem if you'll use the e-scooter in public since both rides are capped at 25 kph (the average e-scooter speed limit in Australia is 25 kph).
Overall, both electric scooters are highly capable, but the VSETT 9 is slightly ahead of the EleKtro Ultra 8, given its larger motor and battery capacity.
Safety
Both electric scooters showcase excellent safety features but use two different brakes.
The VSETT 9 uses a rear disc brake and an electric anti-braking system (EABS). Disc brakes provide a responsive and strong stopping power, while the EABS prevents the wheel from locking while braking, allowing you to steer away if you need to avoid an obstacle during emergency braking.
Meanwhile, the EleKtro Ultra 8 electric scooter uses drum brakes. This type of brake offers more braking force than a disc brake with the same diameter. It also lasts longer than disc brakes and generates less heat, reducing the likelihood of catching fire.
Regarding lights, both e-scooters include front and rear lights. But the Ultra 8 features 360° deck lights, which adds to its visibility, especially at night. 
Overall, both rides offer extremely safe braking systems, but if you want extra safety, consider the VSETT 9 since it has two types of brakes. If you need a more powerful force when braking that lasts longer, choose the EleKtro Ultra 8.
Comfort and Convenience
Regarding comfort, both e-scooters are on par with each other. However, they differ slightly in comfort and convenience.
The e-scooter VSETT 9 uses a front import springs suspension and rear hydraulic suspension, producing a firm, shock-absorbing riding experience. Because of this suspension system, you can ride at higher speeds without too much shaking or rattling. Its 8.5-inch pneumatic tyres also help absorb shocks, stabilise your ride, and improve road traction.
Meanwhile, the EleKtro Ultra 8 uses dual swingarm suspensions to keep rides stable and comfortable, especially on bumpy terrain. Its front 8.5-inch pneumatic tyres also help absorb shocks and bumps to reduce rattling. In contrast, its 8.5-inch rear solid tyre is puncture-proof to prevent damaging your wheels on rough paths.
Regarding portability, the EleKtro Ultra 8 weighs slightly lighter at 22 kg, while the VSETT 9 weighs 23 kg. Both electric scooters also have foldable stems. But the EleKtro 8 includes an adjustable stem and foldable handlebars to provide riders with a more comfortable and stable riding position and reduce the space the e-scooter takes up.
In terms of practicality, both e-scooters are convenient, depending on your preference. If you like foldable e-scooters, get the VSETT 9. In contrast, buy the EleKtro Ultra 8 to adjust your stance while riding.
Price and Value
As of writing, the VSETT 9 electric scooter price is $2,388.95, while the EleKtro Ultra 8 is $1,499. There's a huge difference in its price, making the Ultra 8 a better value for money since it's almost at par with the VSETT 9's specs and performance.
But is the VSETT 9 still worth it at this price? Definitely. The e-scooter is made from a quality, tough aluminium alloy with an IP54 rating, ensuring a long-lasting and highly durable ride. Plus, it mostly tops the EleKtro 8 regarding performance, thanks to its larger motor and battery. The price tag may be intimidating, but it's a reasonable amount for the quality the VSETT 9 gives.
However, if you want to get it at a lower cost, save $389.95 when you buy the VSETT 9 on Scooteroo's website. This special discount applies until stocks last, so don't hesitate to grab this deal today.
For more discounts, check the Scooteroo website regularly or follow our Facebook page to see our latest deals and sales.
VSETT 9 Vs EleKtro Ultra 8: Which Should You Choose?
Hopefully, this VSETT 9 Vs EleKtro Ultra 8 electric scooter review helped you learn more about these two rides and determine which suits you best.
If you prefer a foldable e-scooter with a longer range, two braking systems, and an IP54 rating, consider the VSETT 9. Meanwhile, if you're looking for a lighter ride with an adjustable stem, foldable handlebars, slightly higher top speed, and affordable cost, choose the EleKtro Ultra 8.
Ultimately, the best e-scooter between the two is the one that caters to your commuting needs.