VSETT 9 Electric Scooter Review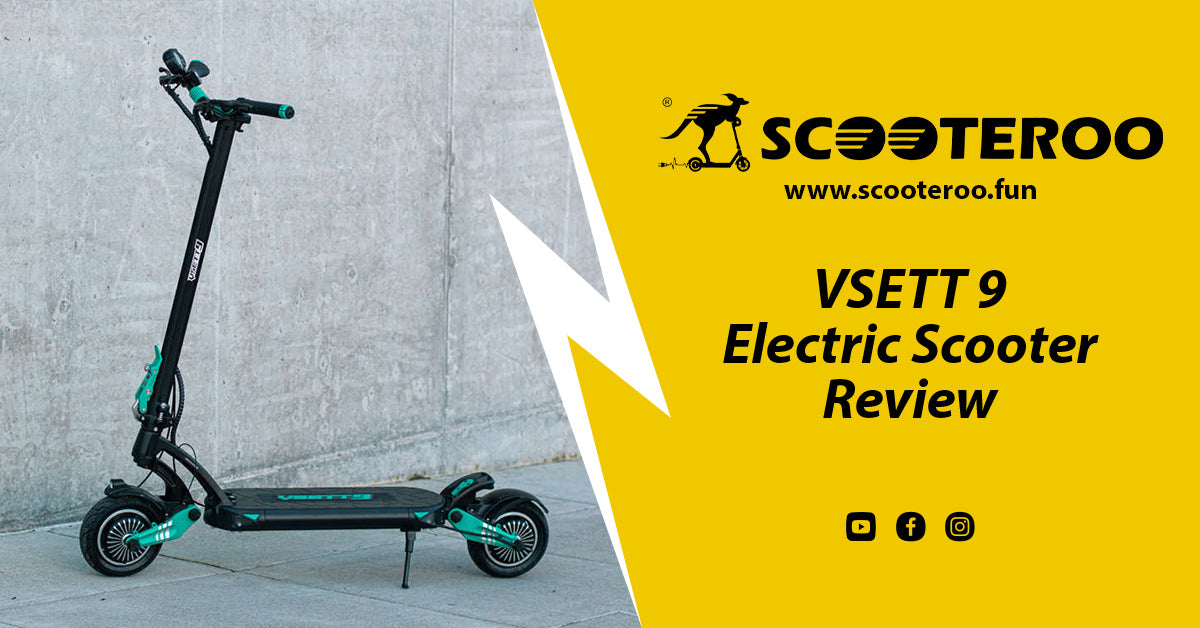 Since its launch in 2019, VSETT has produced next-generation electric scooters that deliver uniqueness, dependability, and performance. Among their e-scooters, the VSETT 9 52 V 17.5 Ah version offers a practical but powerful ride suitable for commutes and slight off-roading.
But what are its features, and how does it perform on the road? More importantly, how does it differ from other e-scooters in the market? This VSETT 9 electric scooter review will walk you through its specs and features and provide insights to determine if this is the right e-scooter for your needs.
Design and Build Quality
At first glance, the VSETT 9 is eye-catching and memorable with its black and aqua exterior. It's also slightly bigger than some e-scooters, having an unfolded dimension of 1,240 (L) x 630 (W) x 1,250 (H) mm. Moreover, it has a slightly rugged style that hints at its power.
When it comes to its build quality, the VSETT 9 electric scooter uses the Aviation aluminium forging alloy 6082-T6 for its frame and handle. This material is a medium-strength structural alloy with excellent corrosion resistance.
Meanwhile, its shaft uses an SCM440 alloy with high steel purity. Lastly, its cover incorporates a tough polypropylene thermoplastic.
Given all these materials, this VSETT scooter features an extremely solid build quality that can take on most terrains. It's a good choice if you're looking for a tough and long-lasting e-scooter.
Motor and Battery
The VSETT 9 scooter runs on a single 650W brushless motor that can deliver a peak output of 1,000 W. This power lets the e-scooter take on slopes with a hill climb or gradeability of 18°.
Note that actual gradeability depends on rider weight, road condition, temperature, and battery condition. So, you might not reach a steeper slope based on your circumstances.
Meanwhile, the VSETT 9 battery has a capacity of 52 V 17.5 Ah. This lithium-ion battery can charge from 3 to 4.5 hours with a 2*2Ah charger and from 6.5 to 8.5 hours with a 1*2Ah charger.
Overall, the VSETT 9 offers a powerful motor and battery slightly higher for its class.
Speed and Range
Thanks to its powerful motor and high-capacity battery, the VSETT 9 specs are also above most commuter electric scooters in the market.
This e-scooter produces up to 45 kph of speed for a 75-kg load. However, the VSETT 9 speed limiter restricts the speed to 25 kph in compliance with Australian electric scooter laws. You may only ride up to its top speed on private property.
Regarding range, the 52 V 17.5 Ah battery can produce up to 80 km of range on a single charge. It offers one of the longest ranges among its peers, making it a good daily commute.
However, remember that actual speed and range depends on many factors, like rider weight, terrain, battery condition, power consumed, and more. So, it can be difficult to achieve these specs under real conditions.
Safety Features
The VSETT 9 scooter is packed with safety features to keep you and your e-scooter safe on the road. It features a responsive rear disc brake that produces a strong but safe stopping power. Disc brakes are one of the safest for any vehicle, and you'll often see these types on high-performance electric scooters.
It also includes an electric anti-lock brake system (ABS) that prevents your wheels from locking while braking. As a result, you get more control over your break, allowing you to manoeuvre better during emergencies.
Besides this, it has an IP54 rating, as with other VSETT models. It means it protects against limited dust ingress and water spray from all directions.
Lastly, the VSETT 9 features an NFC key lock immobiliser that locks and unlocks the e-scooter using a key card. It's located on the dashboard where key locks or start buttons are usually located.
This feature aids in preventing e-scooter theft since it can't be accessed without the key card. Ultimately, it adds extra security for your ride when parked outside. Many commuter e-scooters don't have this feature, making it a practical and unique feature for the VSETT 9.
Comfort and Ride Quality
The VSETT 9 electric scooter also includes features that help make trips smoother, even on uneven paths. For one, it uses a front import springs suspension and rear hydraulic suspension.
The springs suspension offers good shock absorption, while the hydraulic suspension helps produce a firmer ride. Using two different suspensions helps riders balance well on the e-scooter, even on rough terrain and at higher speeds.
Besides this, its 8.5-inch front and rear pneumatic tyres help cushion rides and improve road traction. Overall, the riding experience with the VSETT 9 is smooth and stable.
Portability
Although the VSETT 9 is slightly large when unfolded, it's quite compact when folded. Thanks to its easy-fold mechanism, this e-scooter has a dimension of 1,240 (L) x 250 (W) x 500 (H) mm. 
It also includes slim folding bars that further reduce its size and make it easy to store. This size makes it perfect for storage inside the back of a car, in a large locker, under a table, or in a small storage space.
Plus, the VSETT 9 has a net weight of 23 kg, allowing riders to carry and transport the e-scooter from one place to another. Despite its motor power and large battery capacity, it weighs less than some high-performance electric scooters.
If you're looking for a powerful but portable ride, consider purchasing the VSETT 9.
Value for Money
Is the VSETT 9 worth its price? As of writing, it has a retail price of $2,388.95. It costs slightly higher than similar e-scooters, but the VSETT 9 offers better value for your money because of its quality, specs, and features.
The VSETT 9 incorporates solid materials that don't break down easily, making it a long-lasting e-scooter. In the long run, you save more because you'll have little to maintain. Ultimately, you pay for the durability, performance, and longevity of this high-performance e-scooter.
However, you can get a better VSETT 9 price today! Scooteroo offers a special discount on the VSETT 9, saving $389.95 and selling for only $1,999.
Head on to Scooteroo's online shop, and avail of this discount until stocks last!
Pros and Cons of the VSETT 9
To summarise this VSETT 9 review, here are the pros and cons of this e-scooter.
Pros
650 W motor

52 V 17.5 Ah lithium-ion battery

NFC security lock

Slim folding handlebars

23 kg weight

80 km range

Dual suspension system

Good value for money
Cons
More expensive than similar e-scooters

Slightly larger than some e-scooters
Should You Get the VSETT 9?
The VSETT 9 is a well-rounded e-scooter packed with specs and features. It's ideal for commuters who need a portable and practical e-scooter without sacrificing performance and durability. However, it can be quite expensive for some people, so we recommend grabbing this ride while it's on sale.
Hopefully, this VSET 9 electric scooter review helped you determine if it's the suitable ride for you. Always consider your commuting needs when buying an e-scooter to choose the best one for your lifestyle.