NAVEE S65 Electric Scooter Review: A High-end Commuter Electric Scooter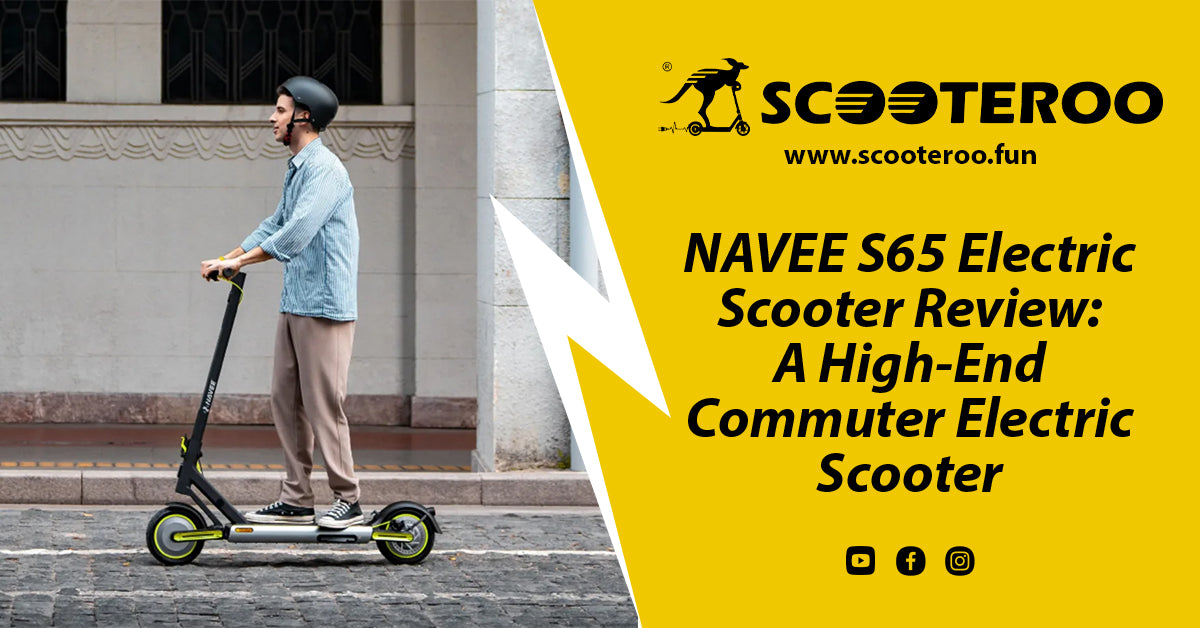 If you want a highly durable and premium ride, opt for a high-end electric scooter. However, these e-scooters often cost over $2,000, making them inaccessible to most.
If you want to get an e-scooter with a premium feel and solid components without spending too much, consider getting the NAVEE S65 electric scooter. 
This commuter e-scooter comes from NAVEE TECH, a leading micro-mobility company specialising in developing, developing, producing, and distributing e-scooters and e-bikes.
Among its line of e-scooters, the NAVEE S65 is the company's best electric scooter for commuting. This e-scooter offers riders a practical and compact ride with decent performance and a premium build, perfect for city riding.
If you're interested in getting the NAVEE S65 electric scooter, learn more about its specs and features in this comprehensive review below.
Design and Build Quality
The NAVEE S65 separates itself from other e-scooters starting from its design. This electric commuter scooter features a sleek, futuristic design, thanks to its seamless high-definition LED dashboard, slim build, and minimalist style.
Instead of an all-black exterior, this ride has a silver wheel hub and side deck. It also includes neon green accents, adding to its uniqueness and futuristic appearance.
When it comes to its seamless display, the dashboard shows your current battery level, speed, and speed mode. Though the dashboard is slim, you see everything at a glance, and it's easy to read.
Meanwhile, regarding its build quality, The NAVEE S65 sports a durable aircraft aluminium that can withstand up to 120 kg of load.
It also has an IPX5 rating, meaning it can stand against water sprays at any angle. While it's not waterproof, it's rainproof, sweatproof, splashproof, and water-resistant.
Overall, it's the best high-end electric scooter if you're looking for a minimalist and compact ride with a modern and unique style.
Motor and Speed
The NAVEE S65 electric scooter uses a 500 W geared motor. The power it produces is standard for its class.
Also, it uses a geared motor, which makes a bit of noise. But it's not irritating or too loud. However, it's audible enough for pedestrians and other vehicles to notice you while riding.
Because of this motor, this adult electric commuter scooter produces a top speed of 32 kph. However, it's limited to three riding modes to comply with electric scooter laws in Australia. The riding modes include Walk (6 kph), Standard (15 kph), and Sport (25 kph).
The motor also enables the e-scooter to climb a maximum incline of 25%. According to NAVEE, the current model has 60% bigger torque and 40% lower heating, making it a more efficient and powerful e-scooter.
Overall, the NAVEE S65 provides decent power and speed, making it ideal for daily city commutes. Just remember to learn and obey your city's electric scooter speed limit to keep yourself safe on the road and avoid getting penalised.
Battery and Range
When it comes to the battery, the NAVEE S65 electric scooter uses a 48 V 12.75 Ah battery that can deliver up to 65 km per charge. Thanks to its long range, it's the best electric scooter for city commute, especially for daily trips. You don't have to charge often since the battery lasts longer.
However, note that the actual range varies, and you can only achieve the max range with a 75 kg load, 25°C temperature, 15 kph speed, and flat terrain. Nonetheless, this is a good long-range e-scooter for those who need a daily ride.
Lastly, the battery also comes with a high-efficiency battery management system to ensure battery safety and warn you of any issues with your battery.
Safety Features
The NAVEE S65 offers the best electric scooter for commuting in Australia if you need a ride with reliable safety features. First, it has a responsive rear disc brake. Disc brakes are known for their strong stopping power and better braking control, allowing riders to stop quickly and accurately during emergencies.
However, note that it only uses one disc brake at the rear and doesn't include any other braking systems for increased safety. Regardless, it provides good safety and protection.
Besides this, the NAVEE S65 electric scooter includes bright front and rear lights for navigating the dark and allowing others to see you better at night.
However, despite its safety features and build, it's not recommended in wet, rainy, and snowy conditions.
Wear a helmet and protective equipment while riding for increased safety, and always obey your city's e-scooter laws.
App Connectivity
Given the NAVEE S65's futuristic look, it only makes sense that it offers convenient smart features. This electric commuter scooter can connect to your smartphone via Bluetooth using its dedicated app.
Riders can download the app by scanning the QR Code on NAVEE's website or downloading the Go Navee app on the Apple App Store or Google Play Store.
Using the app, you can see the battery level, estimated remaining mileage, and current speed and distance, among other riding information. You can also use it to activate cruise control and turn on the tail light continuously.
When connecting and using the app, make sure both sides have the Bluetooth connection turned on.
Overall, the app is easy to use and convenient for those who prefer to integrate their trips with their smartphones.
Comfort and Ride Quality
Despite being compact, this commuting electric scooter for adults uses front and rear suspensions. Specifically, it uses a torsion bar suspension similar to the Inokim OX. As a result, the suspension is smoother and more comfortable for riders.
The dual suspensions help absorb shocks when riding on speed humps. However, it's not recommended to ride through obstacles, like sand, roadblocks, and loose gravel, at high speeds for your safety.
Also, note that heavier riders or loads may feel bumps more as the suspension is more pressed.
Besides its suspension, the NAVEE S65 electric scooter uses 10-inch self-sealing tubeless tyres, providing excellent shock absorption and grip. Even if the tyre is punctured, the brand claims it won't leak.
Lastly, in terms of handling, this commuter electric scooter for adults offers excellent handling. The wide handlebar, suspension, and tyres make it easy to turn around corners, avoid potholes, and ride the e-scooter. As a result, it has excellent overall ride quality.
Portability
The NAVEE S65 electric scooter also offers portability and practicality to riders. For one, it has a slim design with unfolded dimensions of 1,226 x 551 x 1,264 mm. Also, it only weighs 24.3 kg. Although it's slightly heavier than some commuter e-scooters, it's still an ideal weight for carrying.
To help riders transport the e-scooter easier, it features an ergonomic foldable stem that can be hooked at the back to keep it stable while you carry it. Its folded dimensions measure 1,226 x 564 x 539 mm.
Overall, this adult electric commuter scooter allows riders to bring it up the stairs easier or transport it from place to place. Plus, its compact size makes it easy to store or park in small spaces.
Value for Money
The NAVEE S65's regular retail price is $1,699, but it's currently on sale on Scooteroo for only $1,299. Although it's slightly more costly than other commuter e-scooters, like the EleKtro City, you get what you pay for, given its specs, build, and features.
Overall, this high-end electric scooter offers the best electric scooter for work commute due to its durable build and sleek design. Although it can't go off-roading, it has excellent performance for city riding.
Consider getting the NAVEE S65 if you want a premium and solid ride that'll last you a long time. Plus, don't miss out on its discounted price on Scooteroo, valid for a limited time only!
Pros and Cons of the NAVEE S65 Electric Scooter
Here's a quick summary of the perks and downsides of getting the NAVEE S65.
Pros
Excellent build quality

Long range

Good suspension

Responsive disc brake

Impressive handling
Cons
Not for extreme off-roading

Slightly heavier than other commuter e-scooters

Some might not like the noise the geared motor makes

Only one braking system
Should You Get the NAVEE S65 Electric Scooter?
Overall, the NAVEE S65 offers one of the best electric scooters for commuting, given its durable build, slim design, decent speed, long range, and overall ride quality.
Note that if you need help with your NAVEE S65, you'll need to reach out to your local retailer since NAVEE doesn't have a headquarters in Australia. However, you can contact their support team via service@navee.tech.
Scooteroo offers maintenance and repair services for all e-scooter, e-bike, and e-ride models. Book a service and repair today!