MiniWalker MW10DDM Vs. EleKtro Ultra 10 Pro: Which High-Performance E-scooter Should You Ride?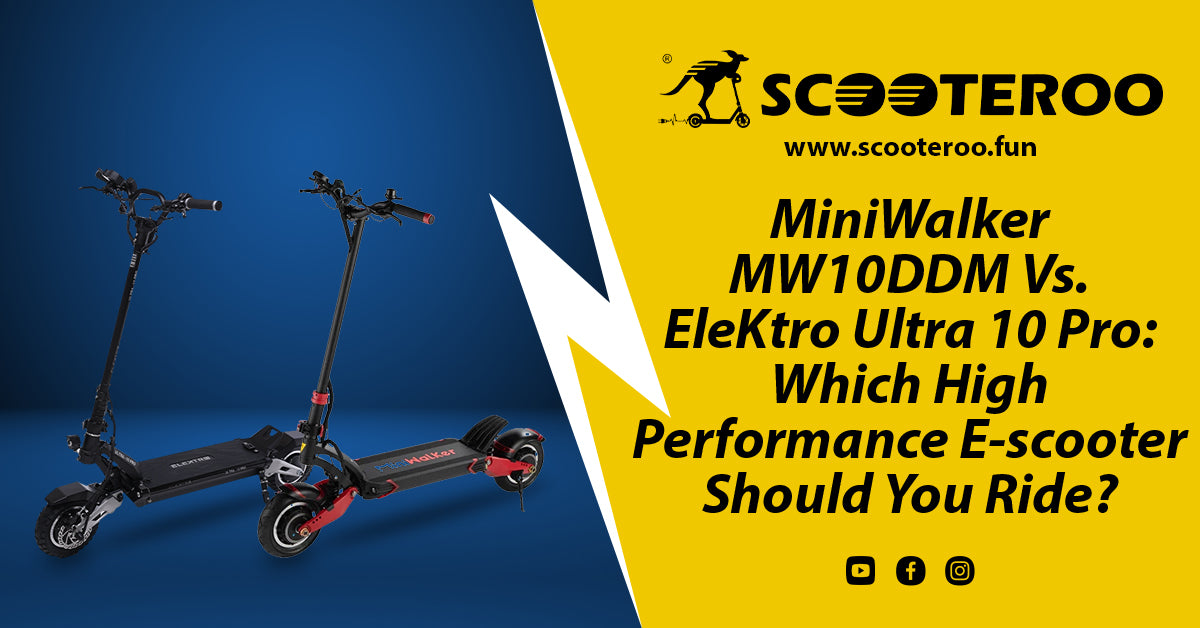 Most people ride e-scooters for their daily commute to work or school. These e-scooters are usually more compact, light, and less powerful to comply with e-scooter laws.
However, some prefer more powerful e-scooters with a larger motor, battery, and body for off-roading and recreational trips on private property.
These high-performance electric scooters can be used on public roads, as long as it complies with the speed limit and fits the state's required e-scooter dimensions. But they're better used and enjoyed off-road and on private property to get the most out of it.
Among the countless high-performance e-scooters in the market, we'll look at the MiniWalker MW10DDM and the EleKtro Ultra 10 Pro. Both e-scooters use dual motors and large batteries that produce high speeds and long ranges, perfect for adventure seekers. 
But which is the best high-performance electric scooter? We break down and compare both rides to help you decide if one or both of these e-scooters is worth it!
Quick Electric Scooter Comparison
MiniWalker MW10DDM

EleKtro Ultra 10 Pro

Dimensions

Unfolded:
1,280 x 680 x 1,225 mm

Folded:
1,350 x 300 x 590 mm

Unfolded:
1,310 x 635 x 1,215 mm

Folded:
1,310 x 225 x 530 mm

Weight

34 kg

34 kg

Max Load

120 kg

120 kg

Motor

Dual 1,000 W Motors

Dual 1,200 W Motors

Battery

52 V 18.2 Ah

60 V 24 Ah

Charging Time

4-12 Hours (Depends on
Charger)

8-10 Hours

Top Speed

65 kph (25 kph Default)

70 kph (25 kph Default)

Max Range

60-70 km

Up to 90 km

Gradeability

N/A

30°

Brakes

EABS, Front and Rear
Brake

Front and Rear Full Hydraulic Disc Brakes

Tyres

10-inch Pneumatic Rubber
Tyres

10" x 3" All-terrain, Tubed Tyres

Suspension

Front and Rear

Front and Rear Sports Swingarm Suspension

NFC lock

None

Yes

Cost

$2,299

$2,849

Warranty

One-year Warranty

2 Years for Frame,
1 Year for Motor, Main Body,
Battery, and Controller 

Customer Service

Depends on Retailer

Responsive via Email,
Phone, Website, and
Social Media
Design
Both electric scooters have a larger build than most commuter e-scooters but still have a fairly compact body for portability.
In terms of its look, the MiniWalker MW10DDM electric scooter offers more colour than the EleKtro Ultra 10 Pro due to its black exterior contrasted by red highlights on the suspension, fenders, folding mechanism, handlebars, and sides of the deck.
The e-scooter uses a good shade of red that's not too dark or too bright for it to be unnoticeable or too eye-catching. Also, despite its simple design, it still sports a slightly rugged design that indicates it's good for off-roading.
Meanwhile, the EleKtro Ultra 10 Pro may lack a bit of colour than the MiniWalker, but it makes up for it with its unique stem and deck lighting system. You can customise its lighting using a dedicated app based on your preference or mood. This feature is perfect for people who want an eye-catching, hip design while riding.
Overall, both rides offer a distinct style and design that will catch the eye of riders and onlookers. But the best design depends on your preference. Which design do you like?
Performance
Both e-scooters sport dual motors and powerful batteries, but which one produces better speed and range?
The MiniWalker MW10DDM uses dual 1,000 W motors to produce a top speed of 65 kph (capped at 25 kph to comply with electric scooter laws in Australia). Unfortunately, we can't find information on its hill grade, but given its motor power, it can likely take on low slopes or inclines with up to 30°-angles.
Meanwhile, this high-performance electric scooter features a 52 V 18.2 Ah battery with up to 12 hours of charging time and a max range of 60 to 70 km.
Note that the charge time depends on the type of charger you use. A standard 2A charger can fully charge the MiniWalker MW10DDM within 8 to 12 hours, while a two-piece charger can charge it for as fast as four hours.
On the other hand, the EleKtro Ultra 10 Pro uses dual 1,200 W motors, which is slightly more powerful than the MiniWalker e-scooter. These motors can produce a top speed of 70 kph (25 kph by default for e-scooter law compliance) and a hill grade of 30°. Its powerful motors allow it to take on rougher terrain, like forest floors and low hills.
Also, this EleKtro scooter uses a 60 V 24 Ah battery with an 8-10 hour charging time. Due to its higher battery capacity, it can travel a max distance of 90 km on a single charge. It's enough to last you a few trips or a long one.
However, note that the maximum ranges from both e-scooters are just estimates. These figures are based on specific conditions, like a constant speed and an ideal environment. The actual range may vary depending on several factors, including the rider's weight, speed, terrain, and weather conditions.
Also, always check your state or city's e-scooter laws before you ride an e-scooter to know your city's e-scooter speed limit.
Portability
Although both rides are slightly larger and heavier than the average commuter e-scooter, the MiniWalker MW10DDM and EleKtro Ultra 10 Pro still offer a portable ride you can bring anywhere.
The MiniWalker scooter has an unfolded dimension of 1,280 x 680 x 1,225 mm and a folded dimension of 1,350 x 300 x 590 mm. This high-performance electric scooter also weighs 34 kg, making it quite heavy for some riders.
However, its one-step, ergonomic folding design makes it easy to fold the e-scooter's top half and lock it into place at the rear fender.
Meanwhile, the EleKtro Ultra 10 Pro measures 1,310 x 635 x 1,215 mm (unfolded) and 1,310 x 225 x 530 mm (folded). It's slightly more compact than the MiniWalker scooter, but they're the same weight of 34 kg.
It also uses an advanced one-clamp spring load stem folding mechanism for easy and quick folding and unfolding.
Overall, if you prefer a more compact ride, the EleKtro Ultra 10 is slightly smaller than the MiniWalker MW10DDM. Nonetheless, these specs and features make these high-performance electric scooters easier to transport anywhere and store in small spaces.
Safety
When it comes to safety, both e-scooters offer the standard safety features for e-scooters, like brakes and lights. But which one offers better safety?
The MiniWalker MW10DDM uses front and rear brakes and an EABS braking system. Having front and rear brakes doubles the bite and responsiveness of the brakes when used. Meanwhile, the EABS prevents the tyres from locking up, helping riders steer safely during emergencies.
This high-performance electric scooter also includes a front light placed on the deck, rear light, brake light, LED lights, and a bell.
Meanwhile, the EleKtro Ultra 10 Pro electric scooter uses front and rear hydraulic disc brakes. Hydraulic disc brakes offer better performance and less maintenance, making it an ideal braking system for e-scooters.
Besides this, this EleKtro scooter has lights on its front, rear, stem, and deck. In fact, the e-scooter's all-around stem and deck lighting system not only adds style but also makes the rider more visible to pedestrians and other vehicles when riding at night.
Overall, both have equally strong braking systems. The MiniWalker MW10DDM has two braking systems set up, while the EleKtro Ultra 10 Pro uses a powerful brake and a convenient lighting system. Either e-scooter will provide safety on the road.
However, we would like to remind riders to always ride responsibly and follow traffic rules to prevent any accidents and injuries on the road.
Security
The EleKtro Ultra 10 Pro features an NFC lock to keep your e-scooter safe when parked in public or stored at home. Using a key card, you can lock and unlock the e-scooter to prevent others from accessing or using it without your permission.
It's a great feature for riders who want to reduce the chances of e-scooter theft when parked outside or for people who have kids at home who may play around with the e-scooter.
Unfortunately, this is one feature the MiniWalker MW10DDM doesn't have. Nonetheless, your e-scooter's safety in public ultimately depends on how you secure it. Always secure your e-scooter with a durable e-scooter or bike lock whenever you park it outside.
Ride Quality
Since both e-scooters are built for off-roading, they use suspensions and durable tyres to help you take on most terrains easily and comfortably.
The MiniWalker electric scooter uses front and rear suspension to absorb shocks and bumps on the road, resulting in smoother and more comfortable rides. It also uses 10-inch pneumatic rubber tyres for extra cushioning and a distinct tread pattern for better traction on the road.
The MW10DDM also has an adjustable pole length to help you get into a more comfortable and stable riding position, especially for taller riders.
Meanwhile, the EleKtro Ultra 10 Pro uses front and rear sports swingarm suspensions and 10" x 3" all-terrain tyres for extra comfort and stability while riding. The suspensions do a good job of stabilising rides, especially in rough terrain. The all-terrain tyres also make it easy to go through off-road paths, like forest floors.
Overall, both e-scooters provide stable, smooth, and comfortable rides, making it easy for riders to steer the e-scooter and ride through difficult terrain. Plus, both e-scooters are durable enough to withstand most terrain and weather conditions.
Price
As of writing, the MiniWalker MW10DDM costs $2,299 on Scooteroo, while the EleKtro Ultra 10 Pro costs $2,849. There's a big difference in their prices, but what do you get for this price point?
If you want a more affordable price, go with the MiniWalker MW10DDM. At this price, you get a long range, decent speed, two braking systems, and excellent suspension.
However, if you can shell out more money, you get a longer range, a faster speed, a bigger motor, stem and deck lighting, an NFC lock, and excellent suspension with the EleKtro Ultra 10 Pro. Although it's more costly, you get more out of your money, justifying its amount.
Overall, either e-scooter is worth it, and it all depends on your budget, commuting needs, and preferences.
Warranty and Customer Service
After-sales service also plays an important role when buying an e-scooter. After all, e-scooters are prone to repairs and maintenance. So, when buying one, consider checking the e-scooter's warranty coverage and the brand's customer service.
For the EleKtro Ultra 10 Pro electric scooter, you get two years warranty for the frame, and a one-year warranty for the main body, motor, battery, and controller. EleKtro also offers repair and maintenance services for its scooters.
And when it comes to customer service, they have a pretty responsive team you can reach via email, phone, website contact form, and social media.
Meanwhile, MiniWalker has a one-year general warranty. Unfortunately, MiniWalker's headquarters is based in the U.S., and they have no office in Australia yet. So, if you need to enquire about after-sales services, you must contact the retailer you bought the e-scooter.
If you need a service centre to maintain your MiniWalker MW10DDM, Scooteroo offers servicing and repairs for all e-scooters, bought in the shop and not. Just set an appointment online, bring or ship your e-scooter to our shop, and we'll handle the rest!
Regardless of where you buy these two e-scooters, always consider after-sales and warranty before purchasing.
Which Ride Should You Get?
The best e-scooter for you is one that solves your commuting pain points and makes your commuting or off-roading more convenient and enjoyable.
If you prefer a more affordable ride with decent specs, increased safety features, and excellent suspension, consider purchasing the MiniWalker MW10DDM.
Meanwhile, if you need an e-scooter with higher specs, an NFC lock, and a comfortable suspension, consider getting the EleKtro Ultra 10 Pro.
Again, either of these high-performance electric scooters will do well on and off the road. It all depends on which one suits your lifestyle best.
And if you want a more detailed review of this MiniWalker scooter, check out our
MiniWalker MW10DDM electric scooter review
. See our
blog sectio
n for more electric scooter reviews!