Sur-Ron Light Bee X Dirt eBike Review – Is It Worth Your Money?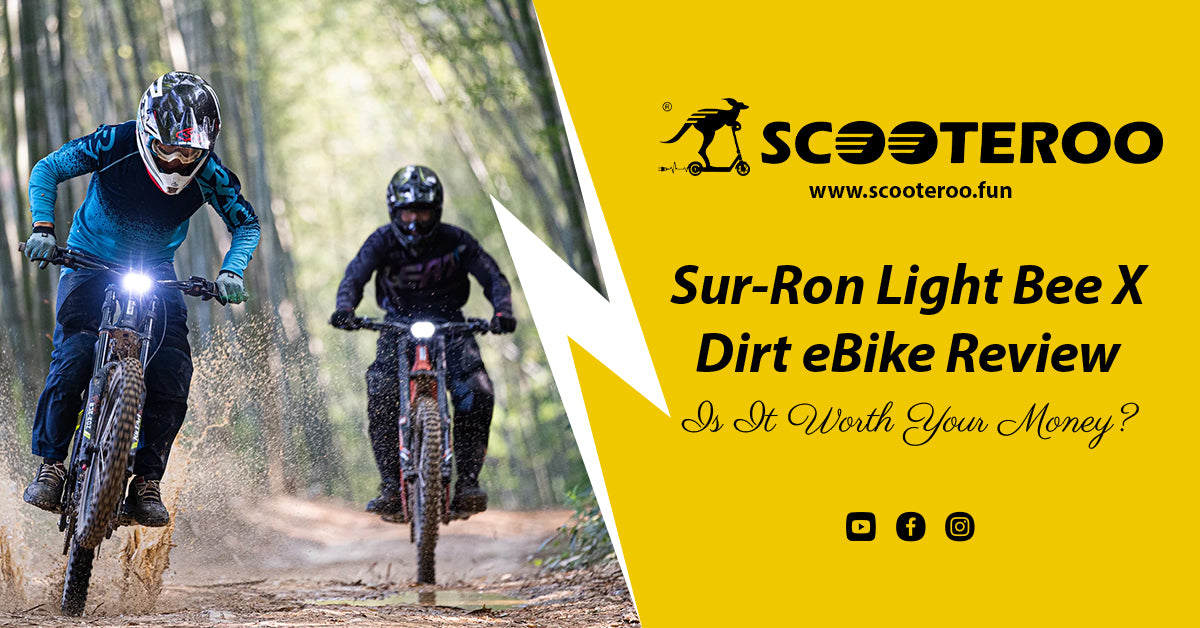 Chinese electric motorcycle company Sur Ron was founded in 2014 and is a very young company for a motorcycle manufacturer. However, in March 2018, they launched the Light Bee X — their first model.
The Sur-Ron Light Bee X is a great dirt bike for all riders. With its high quality, it's not just for professionals. The Sur Ron Australia's design is beautiful with its sleek and simple look. The Sur Ron bike has the latest technology and the most efficient battery, allowing you to go twice as far on one charge.
Want to buy Sur Ron Light Bee X Dirt eBike? Sur Ron e-bikes are generating a lot of buzz, especially the Light Bee X with its out-of-this-world aesthetics. But is it worth it? Read on to learn more.
The Kylo Ren of E-Bikes
The Light Bee X is a bike with a mechanical geometry, matte black finish, and spiky off-road tires that look like they belong to Kylo Ren from Star Wars. With its 110lbs weight, getting stuck is as simple as picking the bike up and over whatever is in your way.
From the bicycle's height and 31-inch seat, both adults and taller teenagers could safely operate the bike. However, it should be noted Sur Ron's age recommendation is adults only.
Powered by a 60-Volt battery
You don't have to power the Light Bee X with your legs, and it has no pedals. Rather than tapping a pedal with a hand or a foot, as with a bicycle, you twist the throttle. A battery pack powers the Light Bee X that you can detach and exchange to use in one of two modes: eco and sport. That is, there's eco, and then there's a sport. As we know, the battery life depends on what mode you ride in and how hard you twist the throttle.
Sur Ron Electric Bike Sport Mode and Eco Mode
If you're more experienced with motorcycles, Sport mode can be of great use when riding along challenging trails. The sports mode has a higher gas consumption rate and is ideal for use on steep hills with added torque and horsepower.
With a high power output of up to 7kW and instantaneous torque of up to 250N.m., the Light Bee X is easier to handle, making it well suited for various sports activities. The professional 19-inch off-road wheelset provides excellent stability when maneuvering and a design that avoids getting stuck in the sand and other low-lying dirt. Each of these aspects is important in the high performance of electric dirt bikes.
On the other hand, the eco mode can be helpful for new riders or if you don't need to speed around. With the eco mode on, the flow of electricity is more controllable and, therefore, easier to handle.
All-day GPS Monitoring
Built-in precision GPS. Navigating during your cycling trips has never been this convenient. You can sign up on the Surround official app and link your bike with your phone. In addition, you can track the location of your bicycle and examine its history of use at any time and place.
Final Thoughts On The Sur-Ron Light Bee X Dirt eBike
The Sur Ron Light Bee X Dirt eBike is a good option for riders looking for a durable, lightweight bike that can be ridden on various surfaces. There are three major advantages to this bike. It's versatile and can be used in a variety of environments.
Aside from its ability to teach new riders, you can use it in new places you might not consider before; the Sur-Ron is simple to operate, too, another big plus for those seeking to develop their riding skills. In addition, the open-wheel design, no gears, and no clutch make it virtually foolproof.
Where To Buy Sur-Ron Light Bee X Dirt eBike
Are you looking to buy
Sur-Ron Light Bee X Dirt eBike
? Scooteroo is the biggest dealer of Surround electric bikes in Western Australia. As an authorized dealer, we're here to help you get the best deals and service on your future Sur Ron ebike.