Why EleKtro is The Next Best E-scooter Brand in Australia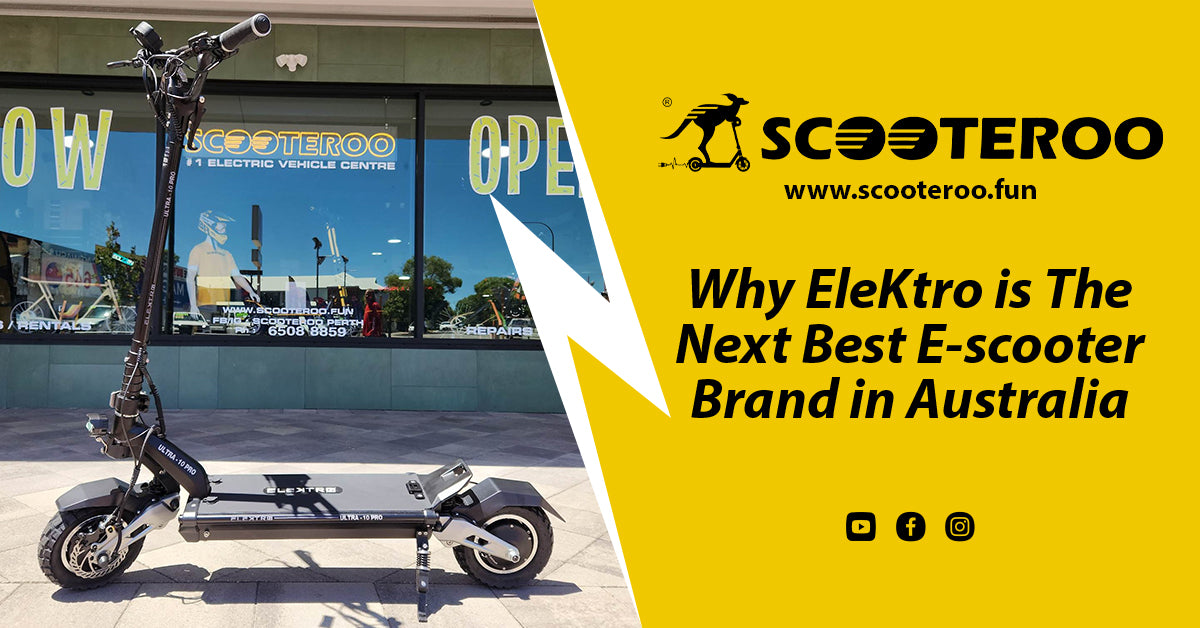 EleKtro is an Australian electric scooter brand that recently launched four e-scooter models, catering to different needs and lifestyles. These include the portable EleKtro City, practical commuter e-scooters EleKtro Ultra 8 and 8 Pro, and the powerful EleKtro Ultra 10 Pro.
Since its launch, EleKtro has grown, selling hundreds of units within months. In April, EleKtro dropped 150 units of the EleKtro Ultra 8 and 8 Pro and almost sold out within weeks.
The brand is steadily growing and becoming known in the community. But what makes EleKtro different from other e-scooters in Australia?
Here are reasons why EleKtro may be the next best e-scooter in Australia.
High-End Specs for Its Class
One of the qualities that set EleKtro electric scooters apart from their peers is their above-average specs and build quality. Compared with other models, EleKtro's models generally have a larger motor, higher speed, and better range.
For example, the EleKtro City may be a lightweight, entry-level electric scooter, but it packs a 400 W motor. Other models of its class generally use a 300 W motor or less.
Also, commuter e-scooters have an average top speed of 32 kph, but the EleKtro Ultra 8 Pro can produce up to 55 kph. However, the Ultra 8 Pro's speed is restricted to 25 kph since e-scooters in Australia must comply with e-scooter laws in Australia. So, you can only experience the full speed of EleKtro e-scooters when riding on private property.
Nonetheless, EleKtro e-scooters offer a good option if you need a ride with higher specs than most in the market.
Safety and Security
EleKtro puts its riders first when developing e-scooters, and you can see this in how they prioritise safety and security.
The brand uses drum or disc brakes for their e-scooters, which are quality brakes. Specifically, the EleKtro Ultra 10 Pro uses front and rear hydraulic disc brakes to provide strong braking power for this compact sport e-scooter.
Besides this, EleKtro uses NFC technology across its range of Ultra e-scooters to give riders extra protection from theft. Using the NFC lock, riders can lock and unlock their e-scooters via a key card.
With this technology, no one can access or ride off with your EleKtro e-scooter when parked. However, riders must still wrap their e-scooter with a secure lock to protect it from theft.
Overall, these safety and security features give riders a sense of peace, knowing they can ride safely on the road and leave their e-scooters in public.
Practical Features
Another way Elektro cares for its riders is by providing practical features that add extra convenience and comfort to their travels.
For example, the EleKtro Ultra 10 Pro uses an advanced one-clamp spring-load stem folding mechanism. This type of mechanism only folds the e-scooter stem, unlike some e-scooters that fold the entire stem and front wheel.
It's also easy to fold and lock into place while providing a stable base with the wheels and deck. As a result, it's easier to carry, transport, and store.
Aside from this, the EleKtro Ultra 8 and Ultra 8 Pro feature an adjustable stem and foldable handlebars. The adjustable stem allows riders to shorten or lengthen it to match their height and find a comfortable position while riding.
Meanwhile, the foldable handlebars help riders minimise their size when storing or moving it from place to place. These EleKtro e-scooters are some of the few models that offer an adjustable stem and foldable handlebars.
Check out this EleKtro Ultra 8 e-scooter review in Australia to learn more about these features.
Value for Money
Although electric scooters are generally more affordable than buying a car or motorcycle, it's still costly for some. So, why should you invest in an EleKtro electric scooter?
As previously mentioned, EleKtro e-scooters provide high-end specs, features, and performance for their class. You get more for what you pay for. Plus, all their models use durable aluminium alloy and have a solid build quality.
A commuter e-scooter in Australia generally costs around $600 to $1,500, depending on the brand, features, and specs. The EleKtro City, Ultra 8, and Ultra 8 Pro sit within this range, making them accessible to various commuters. Moreover, given its durable build, expect it to last a few years, especially with proper care.
A Team of Seasoned Professionals
EleKtro electric scooters are new to the market, but the brand is managed by seasoned professionals in the industry, especially its Founder and CEO Preecha Phuangbanyen.
Preecha is also the Founder and CEO of Scooteroo, making him quite knowledgeable about the e-scooter industry and its market. After successfully running Scooteroo, Preecha took his love for e-scooters further by developing EleKtro.
With EleKtro, Preecha aims to launch premium e-scooters that solve the pain points of riders, promote eco-friendly transportation to commuters, and make it available for everyone.
Similar to how Scooteroo takes care of its customers, Preecha and the EleKtro team is dedicated to bringing world-class e-scooters and providing excellent customer service.
Explore the Next Best E-scooters in Australia
Given the quality and performance of their e-scooters, EleKtro starts its journey as a promising brand. As the brand establishes itself in the industry, riders can expect to see more from EleKtro.
For now, explore their e-scooter models, and see which one fits your riding needs.