Electric Scooter Maintenance Checklist for Beginners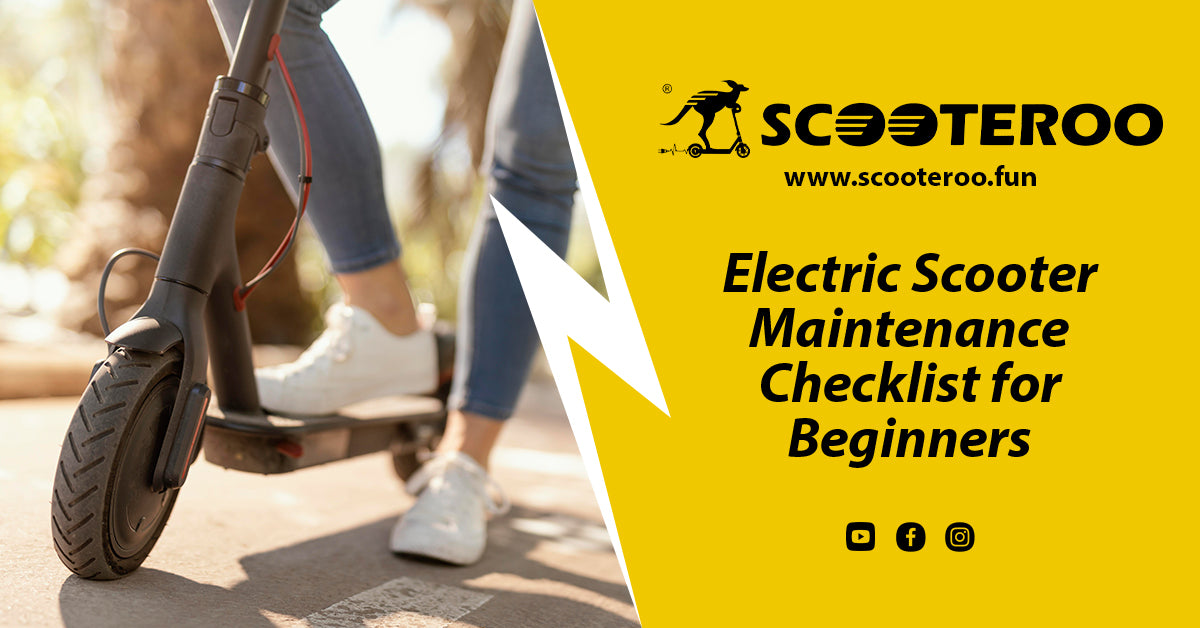 Regular electric scooter maintenance is crucial to prolonging your ride's lifespan and keeping it safe and reliable on the road.
Also, maintaining your electric scooter lets you become more familiar with your e-scooter components, improves your riding experience, and reduces your electric scooter maintenance cost in the long run.
This electric scooter maintenance guide is your quick checklist to maintain your e-scooter if it's your first time owning an e-scooter or if you want to take care of your ride better.
Electric Scooter Daily Maintenance: Quick Checks to Do Before Every Ride
Maintenance starts even before using your e-scooter. You must check your unit's condition before every ride to ensure it's ready for road travel. This crucial step is also necessary to ensure your safety while riding.
So, before riding off with your e-scooter, inspect the following:
Tyre pressure:

Check if the tyres have the right tyre pressure, have a firm grip, and have no visible damage.

Brakes:

Test if the brakes are responsive and work without any problems.

Wheels and handlebars:

Ensure that the wheels and handlebars steer well.
Nuts, bolts, and fasteners:

Tighten loose nuts, bolts, and fasteners.
Lights and indicators:

See if the lights work well, especially the rear light.
Bell:

Try the bell or buzzer to see if it works.
Battery:

Confirm if you have enough battery charge for your trip.
Folding mechanism:

Verify that the stem is securely locked into place.
Overall condition:

Scan your entire e-scooter for any visible damages.
Checking your e-scooter before every ride may be tedious and time-consuming, especially if you're in a hurry. However, remember that this simple maintenance check can make a difference in your riding experience, overall safety, and future electric scooter maintenance cost.
Battery Maintenance: How to Care for Your Electric Scooter's Battery
Your electric scooter battery is the most essential component of your unit since it powers all other components and enables you to ride long distances. Like any other battery, its performance will also deplete over time.
To prolong your battery life, here are a few electric scooter maintenance tips:
Let your e-scooter cool down before charging and storing.

Don't let your battery power reach 0%.

Always charge your battery after riding.

Use your e-scooter's original or recommended charger.

Unplug the e-scooter battery as soon as it's full.

Store your electric scooter in a cool, dry place.
Bear in mind that undercharging and overcharging your battery can shorten its lifespan.
Tyre Maintenance: How to Inspect and Maintain Your Electric Scooter's Tyres
When checking the tyres, there are three things to inspect, tyre pressure, grip, and overall condition. These aspects are crucial to having a smooth and safe riding experience.
Regarding the tyre pressure, always check your unit's recommended tyre pressure and use a tyre pressure gauge to see if your tyres have the correct pressure. If it's not within the recommended pressure range, adjust it by pumping more air in or letting air out.
Meanwhile, to check the tyre grip, you must see if the tread pattern has become shallow and if the tyre material has worn out. If you see these signs, it's best to replace them with new ones.
Brake Maintenance: How to Check Your Electric Scooter's Brakes
Responsive brakes are crucial to keeping you safe on the road, especially during emergencies. Ideally, check your brakes before every ride to ensure it works properly.
Here are some tips to check your e-scooter brakes.
If you're using disc brakes, inspect the brake pads for wear and tear, like cracks, chips, and uneven wear. Replace worn-out or damaged brake pads.

Test the brake's responsiveness while standing and in motion. If the brakes take longer to engage, adjust the brake lines or brake pads.

Check brake cables for any damage or fraying, and replace them immediately if it's damaged.

See if the brake lever works well. Adjust it if it feels loose or doesn't return to its position after turning.
Doing these checks will ensure your safety and minimise risks while riding. Also, it's best to have your brakes adjusted by a professional for your safety.
Folding Mechanism: How to Inspect and Maintain Your Electric Scooter's Folding Mechanism
EleKtro Electric Scooter 10 Pro
Before using your e-scooter, inspect your folding mechanism's condition by folding and unfolding it. Also, check if the folding mechanism has any debris or obstruction.
To maintain it, clean it regularly to ensure no obstruction damages the mechanism. Also, lubricate it occasionally to keep it easy to use and in good condition.
Cleaning and Lubrication: How to Clean and Lubricate Your Electric Scooter's Components
Part of proper electric scooter maintenance is cleaning your e-scooter. However, you can't splash water on it with a hose or bucket, even if your e-scooter has a water-resistant IP rating.
To properly clean your e-scooter, wipe it with a damp rag. If you have stubborn grime and dirt, wipe it with an all-purpose cleaner. Ultimately, keep it clean without using excess water since the extra moisture can damage sensitive parts like the battery and electronics. Make sure it's completely dry before storing.
Meanwhile, you can also lubricate your wheels, folding mechanism, shock absorber, and headset bearings by spraying them with a lubricant containing PTFE. Wipe away the excess lubricant, and be careful not to get any oil on your braking components.
Storage: How to Store Your Electric Scooter Properly
Storing your electric scooter properly also helps prolong your e-scooter's lifespan. Follow these tips below to store it well.
Always clean your e-scooter before storing it.

You don't need to clean it deep, but make sure to wipe away any dirt and moisture.

Charge your e-scooter to its full capacity to maintain your battery's capacity and performance.

Don't store your e-scooter in an area with harsh temperatures. If it's too hot or too cold, it can affect your battery's lifespan and your e-scooter's overall condition.

Store it in a clean, slightly dark, well-ventilated, and dry area. Keep it away from moisture, harsh temperatures, and areas prone to flooding.
Also, make sure to store your e-scooter in a secure, locked area, away from prying eyes. The best places to store it include the garage, shed, or inside your home.
Maintenance Schedule: How Often Should You Maintain Your Electric Scooter?
New electric scooters will rarely have any problems. However, it'll act eventually over time. To prevent major issues with your e-scooter and keep it in good condition, conduct regular electric scooter maintenance every other week.
Besides this, check your e-scooter before and after every ride, ensuring all components are clean and functioning properly. Meanwhile, washing, lubrication, and tyre pressure checking should be done monthly. However, you may adjust the tyre pressure immediately if you see it's not within the recommended tyre pressure.
Lastly, do periodic maintenance for cables, fasteners, and the chain. See if the cables and fasteners are loose and if the chains need adjustment and degreasing.
But as soon as you encounter problems with any of the parts, seek the help of a mechanic immediately.
Find an Electric Scooter Maintenance Shop Near You
Regardless of the repair or maintenance you need, we always recommend having a professional look into your e-scooter.
Although plenty of tutorials are available online, repairing your e-scooter on your own can still pose a risk to your safety, especially if you have no background or experience in repairing them. Plus, it could also damage your e-scooter if you won't be able to handle it properly.
Scooteroo offers repair and maintenance services for all e-scooter models. You may also go to your nearest electric scooter repair shop.
"What if there's no electric scooter maintenance near me?" You can ship your e-scooter to Scooteroo's office since we accept service and repairs across Australia.
Simply book an appointment via our website, and our team will get back to you with your concerns.
If you're worried about the maintenance cost of an electric scooter, remember that it's generally cheaper to repair an e-scooter than a car. Moreover, the cost will depend on the type of service you need. If you still have more concerns about pricing,
contact our team
about it, and we'll help ease your concern.