The Top 10 Lightweight Electric Scooters for Adults This 2023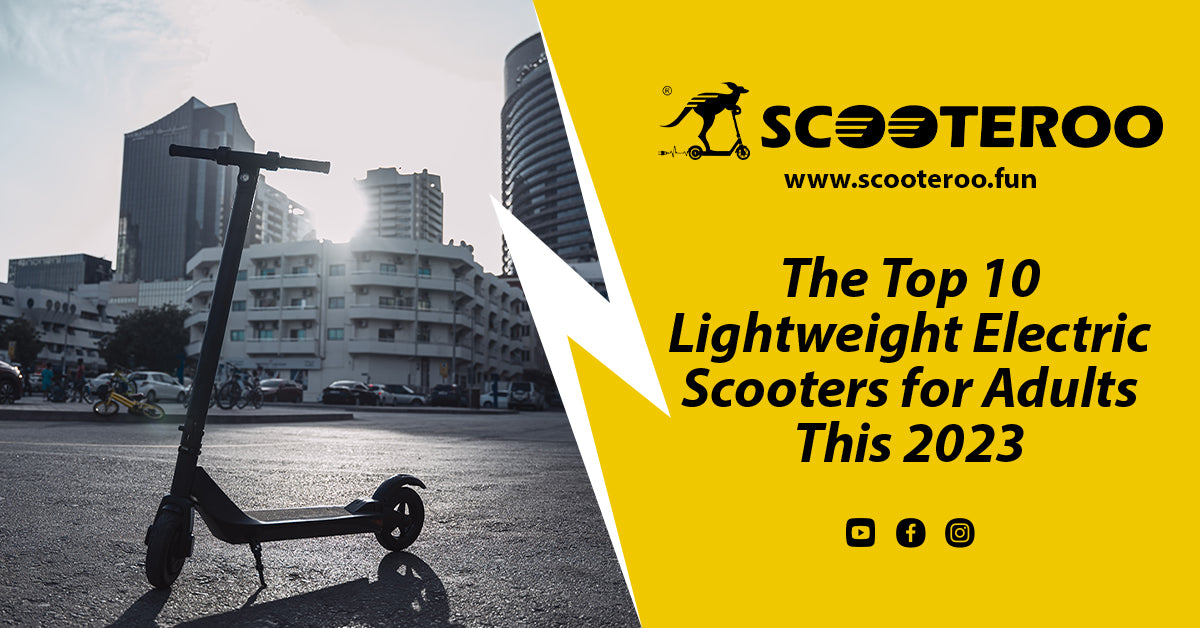 Most commuter electric scooters are generally easy to carry. However, some models offer a lighter and more compact ride, allowing you to carry it on stairs and anywhere easily.
If you're looking for lightweight electric scooters, Scooteroo lists our top lightweight models in 2023. You can buy over half of these rides through our online shop!
1. Segway Ninebot KickScooter Air T15 - 10.5 kg
The Segway Ninebot KickScooter Air T15 electric scooter is one of the most lightweight electric scooters you can find, weighing only 10.5 kg. This futuristic-looking e-scooter delivers a maximum range of 12 km per charge, a top speed of 20 kph, and an incline capacity of 15%.
This unique foldable electric scooter features a folding design mechanism that allows it to fold in half completely. The handlebar also retracts, resulting in a flat, compact, and vertically-folded ride you can stroll around with like luggage.
It's perfect for riders who want an ultra-portable electric scooter while commuting around the city. Its folding design makes it convenient to bring in most places, even on public transport if allowed.
2. Ducati Pro 1 Evo - 12 kg
The Ducati Pro 1 Evo electric scooter is one of the lightest electric scooters for adults, weighing 12 kg. This portable ride produces up to 25 kph and around 25 km to 30 km on a single charge.
Its notable features include its easy-fold mechanism, app connectivity where you can activate its cruise control, and highly reliable rear disc brake. Plus, you get this e-scooter at an affordable price below $1,000.
This electric scooter suits commuters who need a minimalist ride that can deliver decent speed and range with extra features.
3. Bolzzen Atom Light - 12.9 kg
The Bolzzen Atom Light electric scooter packs a 350W motor that allows you to reach a max speed of 35 kph (restricted to 25 kph due to electric scooter law in Australia) and a max range of 30 km per charge.
This lightweight electric scooter for adults is also one of the most affordable on the list, priced at $699 on Scooteroo. It also features a solid exterior that can carry up to 120 kg despite its light weight and slim size.
We recommend the Bolzzen Atom Light electric scooter to adults who need a reliable first and last-mile ride in the city.
4. Unagi Model One Classic E500 - 12.9 kg
The Unagi Model One Classic E500 electric scooter boasts one of the sleekest and most stylish e-scooter designs in the lightweight category. It's available in various colours, including Cosmic Blue, Sea Salt, Matte Black, Scarlet Fire, and Moss.
Despite its looks, this portable electric scooter has dual 250 W motors that deliver a top speed of 24 kph to 27 kph (restricted speed according to Australian e-scooter law) and a max range of 25 km under optimum riding conditions.
If you're looking for a slick and modern e-scooter that doesn't lack performance, consider the Unagi Model One Classic E500.
5. EleKtro City - 13 kg
The EleKtro City electric scooter provides a well-balanced city ride featuring portability and convenience without sacrificing performance. It's the best lightweight electric scooter for adults in Australia if you need a durable, reliable, and affordable ride.
Other notable features you don't usually see in its class include a smart app connectivity feature, removable grips, and a drum brake system. Plus, its 400 W motor produces up to 30 kph (restricted to 25 kph as per law), up to 40 km, and up to 15° inclines.
We highly recommend the EleKtro City electric scooter for riders who need an all-rounder for city commutes. Learn more about this scooter in this in-depth EleKtro City review.
6. Segway Ninebot KickScooter E25 - 13.5 kg
The Segway Ninebot KickScooter E25 electric scooter is designed for last-mile commuters and leisure travellers who need a portable way to get around the city.
It features a one-push folding mechanism, an external battery option for longer rides, and various riding modes, including cruise control. Regarding performance, it has a range of up to 25 km and a maximum speed of 28 kph (restricted according to e-scooter law).
Overall, we recommend this to commuters needing a sleek, ultra-convenient ride packed with decent features.
7. Inokim Super Light 2 - 14 kg
The Inokim Super Light 2 electric scooter offers a fun, city ride thanks to its colourful variants, decent performance and safety. In terms of performance, this e-scooter features a 350 W motor that delivers up to 35 kph on private property (restricted to 25 kph as per law).
Besides this, the Inokim Super Light 2 uses front and rear brakes for extra safety on the road. Also, it's one of the few e-scooters using an LG aluminium-encased, waterproof battery to keep your battery safe from any weather change and external factors.
Overall, it's the best electric scooter for adults who want an urban scooter that can do larger hill climbs, take on most urban roads, and help you travel safer each trip.
8. BLVD Urban - 14.75 kg
The BLVD Urban electric scooter provides a compact and lightweight ride that's still built for durability. It boasts a steel frame and fork, enabling it to withstand concrete city roads.
Besides its build, it has a high-capacity battery and 250 W, enabling it to travel up to 29 km and 25 kph. It may not stand out much from other e-scooters on the list, but it's perfect for commuters looking for a ride with decent specs and all the basics in one ride.
We recommend the BLVD Urban electric scooter for commuters looking for a simple but efficient ride.

9. Xiaomi Scooter 4 - 14.9 kg
The Xiaomi Scooter 4 electric scooter is one of the most popular models in the market due to its sleek, modern look and portable design. Compared to its predecessors, this 4th version includes a longer frame, wider handlebar, and wider footpad for a better riding experience.
Other notable features include its E-ABD system, its 6-axis gyroscope sensor for speed control, and connectivity with the Mi Home app. Regarding performance, it has a 300 W motor that produces a 25 kph top speed and 35 km maximum distance.
Overall, it's an affordable, classic ride among e-scooter enthusiasts that offers decent tech, specs, and features.
10. Mearth S Pro - 15 kg
The Mearth S Pro electric scooter provides a minimalist, sleek, and efficient ride. It has a motor power of 350 W that delivers up to 32 kph (25 kph by default) and up to 45 km with an external battery.
One of its most unique features is its external battery option that can be attached to its stem and extend your trips. Plus, it has an IP rating of IP54, making it resistant to dust, particles, and water sprays from all directions.
This electric scooter suits riders who want to be sure of having enough range per trip, thanks to its external battery option.
Which Lightweight Electric Scooter for Adults Should You Pick?
It can be challenging to choose from this list of lightweight electric scooters. However, always consider your needs when choosing an e-scooter.
Are you looking for the lightest electric scooter you can find? Then, we suggest the Segway Ninebot KickScooter Air T15, one of the lightest in the market.
Do you need a well-balanced ride? Then, we recommend the EleKtro City for its solid build quality, above-average performance, and affordable price.
Or are you willing to splurge on a portable e-scooter that's built for durability? Then, consider the Inokim Super Light 2.
Regardless of what you're looking for, consider other factors you prefer besides weight, since each scooter offers unique specs and features that cater to every need.
Which lightweight electric scooter would you choose? Let us know on our official Facebook or Instagram page.
Meanwhile, if you're looking for cheaper options, check out our list of the best affordable electric scooters to buy in 2023.
If you're unsure if a portable ride suits your needs, explore other commuter electric scooters and more by browsing the
Scooteroo online shop
. We offer a wide selection of electric scooters and e-rides to cater to every commuter's lifestyle.