The Ultimate Buying Guide for the Razor Rambler 16 in Australia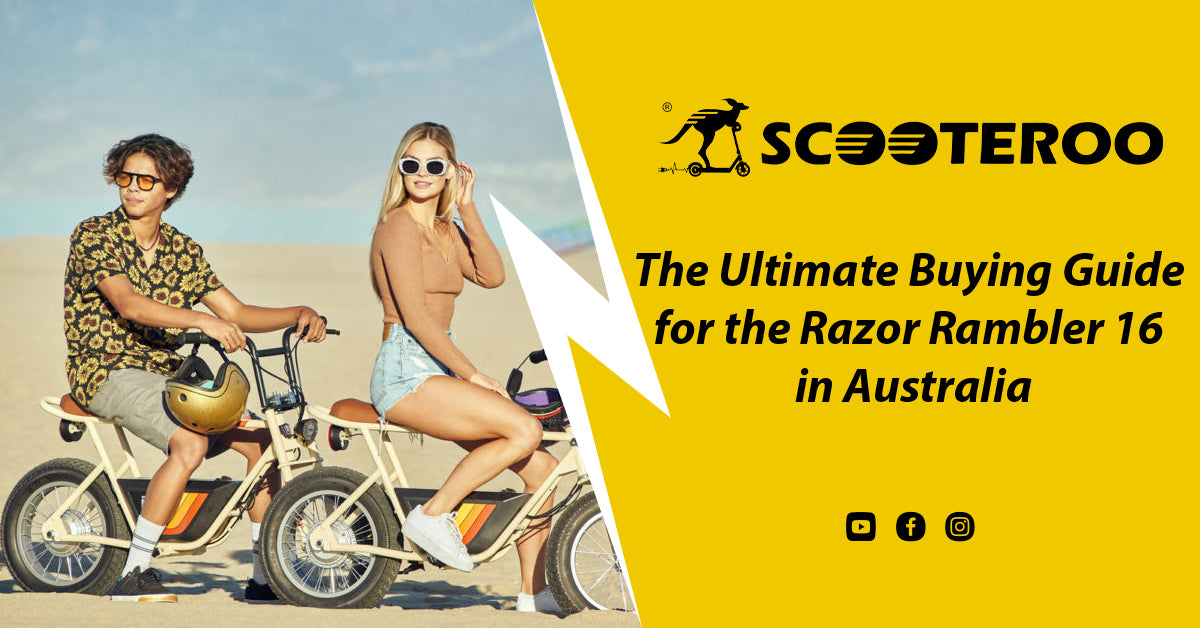 Are you looking for the ultimate buying guide for the Razor Rambler 16 in Australia? Look no further! This post will provide all the information you need to make an informed decision when purchasing a Razor Rambler 16 in Australia. We'll review the features, benefits, and any additional considerations to remember when buying a Razor Rambler 16 in Australia. With this buying guide, you can confidently choose the perfect Razor Rambler 16 for you and your family.
Rambler 16 Razor at A Glance
The Razor Rambler 16 is a modern twist on the classic mini motorbike style. Its sleek design features vintage graphics, while the powerful 350-watt motor allows riders to zip around at up to 15.5 mph (25 km/h). The quiet motor ensures a smooth ride, and the large pneumatic tires provide excellent traction for a more comfortable experience. With a weight capacity of 220 pounds, the Razor Rambler 16 can easily accommodate riders of all sizes.
The Rambler 16 has a rechargeable battery that can last up to 40 minutes of continuous use and a built-in LED headlight to provide visibility in low-light conditions. This electric scooter is the perfect ride for anyone looking to make a statement while having a blast!
Features of Razor Ramble 16
The Razor Rambler 16 offers a great ride with its 36-volt rechargeable battery system that allows you to cruise up to 11.5 miles (18.5 km) on a single charge. It also has super wide 16" (406 mm) air-filled and heavy-duty tires, providing cushion and the ability to tackle rough surfaces.
The Rambler 16 has a bright LED headlight and brake-activated taillight, so you can make an entrance and stop on a dime with its rear wheel drum brake. Lastly, the high-quality steel frame paired with a cushioned MX-style bench-style seat provides a comfortable ride around the neighborhood. With the Razor Rambler 16, you will surely have an enjoyable ride!
Should you razor rambler?
When deciding if you should buy a Razor Rambler 16, there are many factors to consider. It's an affordable and convenient option for riders looking for a retro mini motorbike with all the bells and whistles of the larger bikes. Not only does the Razor Rambler 16 offer an exciting ride, but it also provides riders with a safe and reliable way to get around town. The Rambler 16 Razor has features such as a 2-speed gearbox, easy-to-use controls, adjustable handlebars, and a low center of gravity design for optimal stability. It also has a powerful engine with a top speed of up to 16 mph.
The Razor Rambler 16 is the perfect choice for riders looking for a fun, lightweight, and easy-to-ride bike. Its small size and light weight make it easy to transport and fit into tight spaces. In addition, it is designed to be low-maintenance and is great for commuters looking for a reliable and safe form of transportation. It's also great for outdoor recreation, as it can be used off-road and handle most terrain.
The Razor Rambler 16 is an excellent choice for anyone looking for a high-quality mini motorbike that is stylish, fun to ride, and offers excellent performance. The combination of affordability, convenience, and quality makes it one of the best options for riders looking for a great mini motorbike experience. Its durable design and long battery life make it a great choice for recreational riders and commuters alike. So if you're looking for an affordable yet reliable way to get around town or have fun outdoors, the Razor Rambler 16 might be perfect!
Buy Your Razor Rambler 16 At Scooteroo
When buying a Razor Rambler 16 in Australia, there is no better choice than Scooteroo. With the wide selection of the latest models, you will surely find the perfect electric ride. Scooteroo offers unbeatable prices, fast shipping, and excellent customer service.
At Scooteroo, you can buy the Razor Rambler 16 and accessories, including a helmet and knee pads. This will ensure you have all the gear you need for a safe and enjoyable ride. Plus, all products have a warranty, so you can confidently purchase. If you have any questions, feel free to leave us a message.